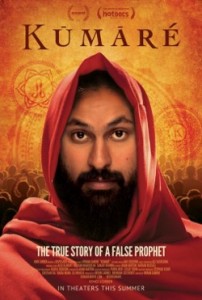 Kumare is an intriguing documentary by American film maker Vikram Gandhi. He studied religion in his higher education and firmly believes that no person needs a priest, pasture, rabbi, guru, etc to have a spiritual connection and that there is a high cost to blind faith.
He sets out to prove this by transforming himself into an East Indian guru and garnering a following in Arizona. Through his "teachings" he is constantly professing how he himself is an illusion. What ends up happening in the process not only surprised Vikram, but me as well. He ends up forging such deep connections with his followers that he struggles to reveal his true self when the time comes.
Having lived in an Ashram for three months in my early twenties, this story really spoke to me. The East Indian guru from the ashram where I stayed, in the Berkshires Mountains of Massachusetts, was forced to leave a few years after my time there, because of stories that came out about some of the things he had done. To me he was always a man and a teacher but nothing more. Many of my friends there felt otherwise and I hurt over their disappointment. So you can see why this story caught my attention in the first place.
Also, I have a dear friend, NC and we often talk about our feelings and opinions regarding religion and god. This documentary really explores all the facets of our friendly debates.
Why should you check it out? To me this movie illustrates the importance of human connection over the importance of god and how having support in your life is invaluable. It also questions the need for a go between for those who believe in god or gods.
I was riveted from the very start of the documentary and all the way to the very end. It is clear by the end of the documentary that Vikram (the director and "guru") is completely changed by the experiment as well as the people who came into contact with him.
If you do check it out, let me know. I'd love to chat about it.
Warm hugs,
Blakely
Please feel free to friend me on Facebook.
Find me Twitter & Pinterest.
AMAZON