Please give a warm welcome to Anja Pruitt, author of When Love Calls.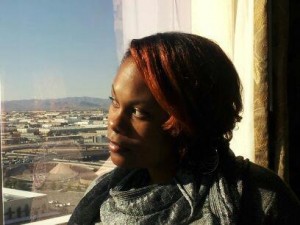 Tell us a bit about yourself and what you're currently working on or promoting.
I'm Anja Pruitt, married mother of two and I live in North Carolina. In addition to writing books I also write poetry and music. The novel I just completed, When Love Calls, is my first romance novel. I'm currently working on the sequel, When Love Waits.
What genre is your book? Do you write in other genres as well?
This novel is Contemporary Romance but I have another work under self-help. It is listed under an alternative name so that folks don't get the genres confused as they are at totally opposite ends of the spectrum!
Who or what inspires you?
I get my ideas for books from my characters as they reveal them to me. I also get some input from my husband. He actually inspires me quite a bit if I'm being honest! He's given me a great idea for my next set of books. Thankfully, none of those characters have started talking yet!
Has a dream every inspired any of your stories?
I'm kind of weird in the fact that I almost never remember my dreams and when I do they are completely random and often meaningless. I have yet to be inspired by a dream, at least not by any dream I can actually recall!
Do you set writing goals and if so, what are they?
My number one writing goal is always: finish the story! I have found it is best if I just keep writing as it comes and save edits for the end. If not, I may never actually get to the end of the story because I am constantly thinking and rethinking ways to tweak, revise or add-on to my story. I've found that if I can just get it all out, my head is clearer and I have enough distance between writing the book from beginning to end so that I can start from the top as a reader with fresh eyes. Finishing the story first, that works best for me.
What does your writing space look like?
My writing space is actually my family room. I curl up in my sectional recliner and just start writing.
Do you have any writing rituals or interesting writing quirks?
Most often I have to have on either the television or some music. For me the more sensory stimulation, the better. Silence drives me crazy when I'm writing. Oh, and there must be wine or coffee depending upon the hour.
Is being an author your dream job? If so, how long have you been chasing the dream? If not, what would be your dream job?
Writing is the dream job that I never knew I always wanted. I've been doing it in some capacity since I was twelve but it wasn't until recently that a fellow author encouraged me to step out and truly give it a shot. When I wrote my first book in 2005 self-publishing was so different. It was more about the leg work of getting the project out there and I just couldn't do it with a full-time job and a family. With the advances in technology, I am afforded a new opportunity to promote my projects in a way that can still allow me the time I need to work and do things with my family and it is my hope that one day my job and my dream will be one in the same.
What book are you currently reading?
I just started reading Nikolai by S.L. Jennings.
Do you see yourself in any of your characters?
I think there are definitely some elements of myself in my characters or even some elements of others in my books. I don't think it's intentional. I think it just organically happens since these ideas come from my brain so they're bound to have some of my residue on them. The fun part is mixing in elements of totally outrageous characters and behaviors to embellish and flower each person in a way that makes the book vibrant and more exciting than reality.
Is there a character that you enjoyed writing more than any of the others?
Strangely, I enjoyed writing the character Angela more than any other. She is the closest friend of my protagonist and she also adds lots of humor to the story. At the same time, because she knows the main character so well, she can give her the no-nonsense feedback she needs when she needs it. Yeah, Angela is one of my favorites!
What do you do when you're not writing?
This is such a loaded question. When I'm not writing I work full time from 8-5 and run my 16yr old and 7yr old to various practices, performances, study groups, music lessons, test, etc. I also manage to cook a few days a week and squeeze in some quality time with my hubby. About once a month I get to hang out with a friend or two.
How much time a day do you spend on social media?
OMG! The amount of time I spend on social media is kind of ridiculous! There is a constant check-in that goes on throughout each day. Even if I don't post, I have to see what's going on. It's how I stay connected to the rest of the world since I rarely call people on the phone and I try not to watch the news if I can help it!
You can find Anja on Facebook and Twitter and her blog.
Here is the cover for When Love Calls. Make sure to check her site for her release date.