Please give a warm welcome to Blue Stour & Sidda Lee Rain, authors of Stranded at Third.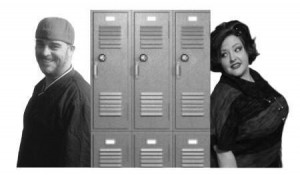 Tell us a bit about yourself and what you're currently working on or promoting.
Blue: My name is Blue Stour; I'm a 43-year old, born in TX, and lived mostly in MI and FL I graduated from Eastern Michigan University with a degree in writing and British Literature (Big Shakespeare fan, NOW stop laughing at me).
I recently began writing w/Sidda Lee Rain on an erotic romance series, Game Time, where sports and sex collide. The first book, "Stranded at Third," is a baseball novella, which has been a chore, but we think the blending of our styles has worked.
Sidda: I'm Sidda, Sidda Lee Rain or S.L. Rain depending on which of my series we're talking about. I'm a true blue-actually purple Minnesota girl (little Minnesota Vikings reference there). I'm on my fifth year at age twenty-nine and loving it. I'm currently working with Blue Stour on the Game Time Series, our first novella, will be released Saturday, January 25th. This is my first co-writing experience and so far nobody is dead so we are managing. I also just started working on my third novel Roping Him In in my Dirty Denim Series.
Do you set writing goals and if so, what are they?
Blue: Since I've been blessed to partner up with THE Sidda Lee Rain, I want to see the Game Time Series take off. Before the series is over, I want to see a book (or 2 or 3 or …) from the series reach the best seller list in this genre.
Sidda: Only writing goals I think of are giving the readers what they want. Hopefully, that means more books. As for quantity goals? I strive to put out new work for them as long as that doesn't detour from quality.
Do you outline your stories or just go with the flow?
Blue: I've tried to outline stories in the past, but I always wind up going wherever the keyboard takes me. After all, characters, like people, create their destiny.
Sidda: I don't outline stories at all. My mind wonders, my characters create themselves, new ideas pop into my head at any moment. I'm just as surprised as anybody else would be but I think that's part of being a creative person. Working with Blue, an outline would be impossible; he knows what he's going to do and I have an idea on where'd I'd like to go but neither of us knows what each other is thinking until we read each other's work.
Who is your favorite author and why?
Blue: Other than the Bard, himself—that's Mr. Bill Shakespeare—it is (drumroll) John Feinstein. I've been hooked ever since I read Season on the Brink, about legendary college basketball coach Bobby Knight; Feinstein is a genius.
Sidda: This is an impossible question to answer, truly it is. There's to many it depends on….depends on what I'm in the mood for. Sometimes I need something dark and somewhat disturbing, I reach for King or Poe. Other times the romancing over the written words themselves leads me to Shakespeare or Austen. Occasionally, simple yet seductive authors call to me like; Linda Lael Miller or Catherine Anderson.
What book are you currently reading?
Blue: Actually, this may come as a shock, but I just finished reading a bit a bit older, Mitch Albom's Tuesdays with Maury. Two thumbs up, by the way.
Sidda: Right now, I'm reading two, StoneHeart by Baer Charlton and Healing Developmental Trauma by Laurence Heller Ph. D.
Do you see yourself in any of your characters?
Blue: Of course! If it's not myself in a character then it's friends or someone I know. Perhaps it's not intentional, but after looking at a character I've written, I can find something about someone I've run across in my life.
Sidda: Most definitely! No, I won't say which one but there's one that is basically me on paper. Her attitude, her mouth-including the cursing like a truck driver. Pretty much all of her characteristics come from me. I was struggling with a lead female character but when I wrote her as if it were myself, no more issues.
Do you read your reviews and if so, how do you cope with a bad one?
Blue: I LOVE reviews. Reviews are why we write. Good or Bad, readers should ALWAYS leave their impression. I say that because bad reviews can help writer's grow. If it's just one review, then maybe it was just a not-happy reader. However, if there were a couple or a trend of the same negativity, then, obviously, there's a problem with me.
Sidda: I LOVE reviews! A new review makes me stupidly giddy. Of course, I prefer the good ones but I want to hear the bad ones if they're needed. Every now and then you may just not be someone's taste but if it's more than that, I want to know.
If someone wrote a book about your life, what would the title be?
Blue: Rebound. It would have to be a sports title and about never giving up, even after a miss.
Sidda: ~Eventually~ I'm a procrastinator, I'm chronically late, I'm full of ideas but I always claim "not now but I'd like to do it eventually", I'm not satisfied but I hope to be….eventually.
What has been the toughest criticism given to you as an author? What has been the best compliment?
Blue: Toughest criticism: EASY, why don't you just say screw this and go back to your regular job. (been told that a couple of times)
Best compliment: EASY, "That was sooooooo me; I needed that." Hearing something like that or seeing it on a review makes the long hours, weeks, and months of excruciating writing, editing, writing, editing, editing, . . . ALL worth it. (been told a few times)
Sidda: Toughest? "You're an author? Anyone can do that." (Really, I thought?)
Compliment? When someone tells you that your book has changed them or had them laughing out loud one minute to fanning themselves the next. I love that, it means they are connecting with your story and with your characters.
Reach them on their joint page on Facebook. Sidda on Twitter and her website.
Book 2 in the…
GAME TIME SERIES
~Kept on Ice~
Coming this May!!
Click on the link below to purchase their novel.