Please give a warm welcome to Brandy Jellum, author of If I Say Yes.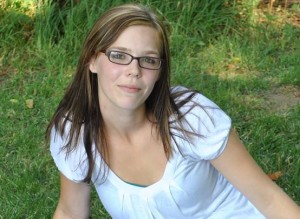 Tell us a bit about yourself and what you're currently working on or promoting.
Let's see, what can I say about myself, this is always a tricky one. First off, I'm married to a wonderful man who is truly my other half. We are a blended family, four kids ranging from 2-13, and I wouldn't have it any other way. I love people's reactions when I tell them I have a 13 year old child and I'm only 24 years old –is it bad that I find it humorous? When I'm not writing, I chase after my husband and kids, and just enjoy life to the fullest. Right now, I'm currently working on the second book of my series titled If I Say No and promoting the first book, If I Say Yes.
What genre is your book? Do you write in other genres as well?
The Say Something Series is a Romantic Suspense. There is a lot action and keeps you guessing until the very end.
When I first started out writing, I started with a Young Adult novel. I wrote about 140K words in less than two months and absolutely hated the finished product. Someday, I will return to that very first book and give it a go again. But for now, I'll stick with what I write best, which is Romance.
Do you have an agent and/or publisher or are you self-published? If self-published, do you use a professional editor? If traditionally published, who is your publisher?
I just signed a contract with a publishing company called Booktrope. Booktrope is an amazing company and I am so excited to be joining the family. They offer the best of both worlds –traditional and self-publishing. They have taken the best parts of each and transformed it into the perfect medium. Booktrope's approach and platform towards publishing is fresh and invigorating, and I am so happy to be able to join them on this crazy ride.
Do you use test readers? If so, how many?
I do. I have a small group of three terrific ladies who have been with me since the very beginning. They are honest in their opinions of what works and what doesn't. They feel every emotion I try to convey and let me know if I need to add more to a scene or take away from a scene. They point out the things I don't catch and I am lucky to have them. In fact, one of the characters has my beta reader Sara to thank for getting him his own book. *waves* Hey Jess, Amanda, and Sara! You ladies rock!
What advice do you have for writer's just starting out?
I'm new to writing myself and I love reading what authors have to say. The best advice I have been giving, is something I try to do daily, and that is just to write. Whatever it is, just write. Even if it's only for 20 minutes a day, do it, because it gets you into a habit of doing so. Don't think about what others are out there writing, write the story that is in your head. Write for yourself, not for others. I am always telling myself that I don't care if I only have a few dedicated readers or if I am a huge success, I'm doing what I love, and at the end of the day…that is all that matters.
Do you outline your stories or just go with the flow?
Outlining is my nemesis as well as writing a synopsis. It's seriously not my forte but I kind of do a little of both. I have the story in my head, I have the characters, I have the beginning and the end planned out, and major/minor plot twists figured out. The rest of it –the in-between stuff- I just go with the flow. I keep in mind what is going to happen, I remember how I want it to start and end. I let the story write itself and let the characters speak for themselves. That be said, I may not always agree with my character(s) but the majority of the time they are right. Then I ask myself why I didn't think that up myself. Outlines make me feel restricted and limited and I feel like it stunts my creativity. So long story short, I just usually go with the flow.
What are your three favorite books including the authors?
This is hard. I love so many books. Can I choose four or five?
1. Pride and Prejudice by Jane Austen
2. Harry Potter Series by JK Rowling
3. Bone Cold by Erica Spindler
I'm going to stop while I'm at three.
What project are you currently working on?
I'm currently working on three books. The first two are the next two books in the Say Something Series. Which will have the same level of suspense and romance as book one. The third book is a standalone book which has the possibility of turning into a series about a football player and an athletic trainer who were high school sweethearts. The girl broke the guy's heart during their freshman year in college and when they find themselves working for the same team- he's the quarterback, she's the trainer- he makes a promise that he's going to make her fall in love with him again and break her heart like she did to him years ago. I also have another series planned but it is still in the developmental stages and requires more research before I break ground on it. It's another Romance Suspense series, expect this time it's with Special Agents and not Literary Agents.
What has been your best moment as a writer?
The best moment I have had is the feeling I got when I finally finished writing book one. There were many times where I wanted to give up and just stop writing because I was overwhelmed with everyday life. I'm so glad I didn't and that my friends and family –especially- my husband, gave me the motivation to keep going. When I typed the very last word of the page, I sat at my computer desk staring at the scene, and tears formed in my eyes. The feeling was incredible.
Signing with Booktrope is a very, very close second best moment as a writer.
Do you see yourself in any of your characters?
There are times I do. Both of the main characters in book one both love classical music. That comes from me. I absolutely love the classics such as Chopin, Beethoven, and the rest of the greats. There's little quirks I try to give to each of my characters as a reflection of me. The main female character questions herself a lot, she over thinks everything, and when she's scared…she runs. She is much of my previous self. The person I was before I became a wife and mother. She is fragile and broken and doesn't realize the best thing she could possibly have is standing right in front of her.
Is there a character that you enjoyed writing more than any of the others?
There is one character that I absolutely love writing who also irritates the crap out of me. He is the best friend of the main character in book one of the Say Something Series and will get his own book in the series. (Book Three!) He is the epitome of a best friend who would do anything for the main character but he is broken. He's that pesky little voice in my head that doesn't shut up until I satisfy his needs and work on his book. He doesn't care that his book can't be released until after book two is released. In fact, he is so pesky, he got a bigger role in book two than I had originally planned. I absolutely love writing him, love his humor, and his loyalty. I love writing scenes with him, especially the ones of him and another character. Those two can't stand each other and make quite a spectacle wherever they are.
What do you do to stay sane as a writer?
I write to stay sane. I have four children and a husband. My days are filled with cleaning and chasing after them. My two year old is quite a handful. He's mischievous and a daredevil. I am waiting for the day he gives me a heart attack with his fearlessness. So, I write to stay sane. I am able to take a break from my everyday life and dive into the mind of someone else and see their lives come to life as I write the words across the page.
Has reading a book ever changed your life? Which one and why, if yes?
I can't say a book has ever changed my life, not in the AHA sense. But there is one book that is very emotional to read, I started it when I was 15, and still have not finished it to this day. The book is Angela's Ashes by Frank McCourt and it's a memoir on his life. That book wreaks havoc on my soul and I keep promising to finish it but walk away after a couple chapters every time.
I have found the writer's community to be very supportive and welcoming. Please share writers that you recommend for us to check out.
You can find Brandy on her blog, Facebook, Goodreads, Amazon & Twitter