Please give a warm welcome to Clara Grace Walker, author of Gratification, Gossip, and Redemption.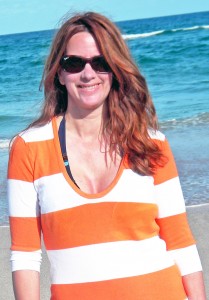 Tell us a bit about yourself and what you're currently working on or promoting.
At 9 years old I realized I loved books so much I wanted to write them. While I have worked "day jobs" at times, nothing has ever felt like my true calling, save being an author. I'm a creative soul, and I like to express that in a number of different ways, including photography, scrapbooking and various crafting projects.
Currently, I'm promoting the three books that make up my Desire Never Dies trilogy: Gratification, Gossip, and Redemption, while working on my fourth novel. Exploits will be the first of a 4-book series titled Sex and Secrets. This writing gig keeps me pretty busy, and I wouldn't have it any other way. 

What genre is your book? Do you write in other genres as well?
My books are all mainstream romantic suspense, and I don't have any plans to change that at this time. If I were to write in another genre, it would probably be some sort of post-apocalyptic romance, most likely involving time travel. Post-apocalyptic stories fascinate me, as does the idea of non-linear time.
Do you use test readers? If so, how many?
Definitely! I have worked with the same three critique partners for many years, and they are truly wonderful ladies!
What does your writing space look like?
In the summertime I'm stretched out on a lounge chair, enjoying sunshine and a pool. Since I live in Michigan, however, I can't do that year-round. Once the pool closes and the weather begins to cool, I'm usually hanging out on my bed with my two cats: Fudge and Taffy.
What has been your best moment as a writer?
The first time I saw a 5-star review for one of my books on Amazon. I was so excited I did my "happy dance."

Of course, every 5-star review since, and even the 4-star ones, have provided me with the same jolt of joyfulness.

Is there a message in your book(s) that you want readers to grasp?
I find myself always circling the same themes: the deceptive nature of appearances, the way it feels to be broken, and the hope for redemption.
Do you see yourself in any of your characters?
I see parts of myself in most of my main characters. I share Preston's sense of responsibility, Maggie's romanticism, Nick's stubbornness and desire to do things his own way, and Mindy's sense of self-sacrifice and her love of music and animals.
Was one of your characters more challenging to write than another?
Mindy LePage, the heroine from Redemption, was definitely the most difficult to write. She is a beautiful soul, but also one who has been broken. At times I just wanted to wrap my arms around her while she had a good cry.
Is there a character that you enjoyed writing more than any of the others?
I had great fun writing Nick Beck, my hero from Gossip. I really identified with, and admired, his stubborn streak and his dive-right-in, do-things-his-own-way attitude. Not to mention his love of books, art and grammar. I fell so massively in love with Nick while I was writing Gossip that I actually had a tough time at first writing Earl's character in Redemption. My thoughts kept spinning back to Nick. Fortunately, that all sorted itself out after a while.
Has a book ever changed your life? Which one and why, if yes?
Reading A Farewell to Arms in high school began my great love affair with Ernest Hemingway. In fact, I have plans to be reincarnated with Papa someday and have a stupendous literary love affair with him…lol!  Seriously though, this single sentence speaks volumes, both to great writing and to life in general: "The world breaks everyone and afterward many are strong at the broken places."
I have found the writer's community to be very supportive and welcoming. Please share writers that you recommend for us to check out.
Mick Mears: His website is a great place to discover him.
Jack Hayes: A link to his fabulous novel Candleburn.
Jack Lacey: A link to his wonderful novel American Crow.
You can find Clara on her website, blog, Facebook page, Twitter, Goodreads, and Amazon page.