Please give a warm welcome to Dana Littlejohn, author of Tri-Romance.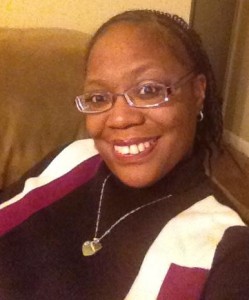 Tell us a bit about yourself and what you're currently working on or promoting.
I am Dana Littlejohn, author of I/R and African American sensual erotic romance. I have always said when I grew up I wanted to be an author. I was the kid the grown folk used to say was born with a book in her hand. I wrote my first story when I was 12. My books are always rooted in romance, but have been in other sub-genres as well. At the moment I am doing a vampire novel.
Do you write in other genres as well?
Though I have done books fantasy, historical and off world planets, I prefer to write books taking place on this planet and this day so I lean toward contemporary.
Has a dream every inspired any of your stories?
Dreams always inspire me. When I wake I tell my husband about it to make sure it's not anyone we know

 then I jot down the ideas I have seen in my dreams.
Do you have an agent and/or publisher or are you self-published? If traditionally published, who is your publisher?
I have books as 3 different publishing houses at the moment. Secret Cravings Publishing, Muse it Hot Publishing and Phaze.
What advice do you have for writer's just starting out?
I usually give them these 3 things to focus on: 1) improve your craft- no matter how good your story is if it is filled with typos it will end up in the trash. 2) ignore adversity- if this is something you want to do, commit to it and don't let anything stop you from making it happen. 3) write, write, write- the more you like the better you get.
Do you outline your stories or just go with the flow?
I do both. When I get an idea I usually know the beginning, the middle and the end, but the characters tell me how to get from place to place.
Do you have any writing rituals or interesting writing quirks?
I listen to men singing love songs when I write sex scenes. I like to be serenaded.
What project are you currently working on?
Besides my vampire novel I am also finishing Love Renewed. It's about a neglected wife who runs into her first love. He still loves her and now she wonders if she made the right choice.
What has been your best moment as a writer?
The best moment was when I got that first email saying yes we want to publish your book. It feels good every time, but never like the first one.
Was one of your characters more challenging to write than another?
Yes. I realized it's harder to write a female 'bad guy' than I thought. You can meet her in Releasing the Baggage.
What do you do when you're not writing?
I have an online company that I make crochet accessories.
What do you do to stay sane as a writer?
LOL I crochet.
I have found the writer's community to be very supportive and welcoming. Please share writers that you recommend for us to check out.
You can find Dana on her website, Facebook, Twitter & blog.