Please give a warm welcome to Deanndra Hall, author of The Celtic Fan. I've had the wonderful opportunity to chat with her and I know you will find her to be another accessible author.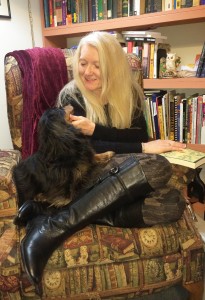 Tell us a bit about yourself and what you're currently working on or promoting.
I'm a hard-working author living out my dream here in far western Kentucky with my partner of 30+ years and three crazy miniature dachshunds. I'm currently promoting my newest book, The Celtic Fan.
What genre is your book? Do you write in other genres as well?
I write in both the erotic romance and erotica genres. This summer I'll be starting a new series that will be a paranormal romance and it'll be unlike anything I've seen. I'm looking forward to that.
What advice do you have for writer's just starting out?
Write. And then keep writing. And make sure you're writing for the right reasons, because you love it and/or you feel compelled to write. If you're writing just to make money, you're going to have a long, hard road.
Do you set writing goals and if so, what are they?
Not really. What I do is set dates for releases. I'm self-published, so I don't have a publisher breathing down my neck. That can make a writer lazy. I set a release date, and then I start telling people when it is. That makes me either stick to the date or look like an idiot. As a result, I stick to the date.
Do you outline your stories or just go with the flow?
I don't really outline them. They come to me pretty well-formed, and I just have to flesh them out. But I do work them up on a timeline. I want to make sure that things don't happen out of order, or the time they're given for a certain event is plausible. I also keep a list of characters, complete with personal information, so I know who everyone is!
What project are you currently working on?
Right now I'm working on the fourth novel from my Love Under Construction series, Planning an Addition (this fall), and the fourth novella in my Harper's Cove series (Siobhán and Aidan, no house number yet). My recent previous releases are Harper's Cove series, Adventurous Me and from the Love Under Construction series, Renovating a Heart. I've also started on the first novel in the new paranormal romance series. And having a life – I'm working on that.
What has been your best moment as a writer?
My first fan mail. I was ecstatic.
What challenges have you faced in your writing career?
The same thing every writer will tell you – time. Never enough of it. And marketing. I'm lousy at it, not to mention that I hate it. Subsequently, I don't do it very well.
Is there a message in your book(s) that you want readers to grasp?
Yes! Most of the characters in my books are over the age of forty. I want readers to know that people over thirty-five and beyond have vibrant, exciting lives filled with love and passion and joy.
Do you see yourself in any of your characters?
My partner will tell you that I am Nikki from the Love Under Construction series. She is very much like me; so is Diana from The Celtic Fan. Other than that, the characters really aren't modeled on anyone I know.
What do you do to stay sane as a writer?
Um, I'm not. I thought insanity was a prerequisite. Actually, the answer is that I go to the gym. Over the last two and one-half years I lost 75 pounds and went from a size 22 to a size six, so I can't sit in front of the computer all the time.
If someone wrote a book about your life, what would the title be?
It would be an autobiography (no one else would think my life was that interesting), and it would be titled What Was I Thinking? That's the question I ask myself about a million times a day.
I have found the writer's community to be very supportive and welcoming. Please share writers that you recommend for us to check out.
You can find Deanndra on her website, blog, Facebook, Twitter, and Amazon. Click on any of the boxes below or the links in the interview to buy her books.