Please give a warm welcome to George A. Kos, author of Wizards' Secret Service: The Key of Radmarand & The Brotherhood of Darkness.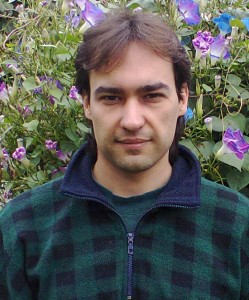 Tell us a bit about yourself and what you're currently working on or promoting.
Since I was a kid I always loved fantasy stories and as some of my classmates always told me, I kind of lived in my own world. After getting older this passion for everything unusual grew stronger and I began to try writing short stories. Now I'm promoting my debut novel Wizards' Secret Service and The Brotherhood of Darkness.
Do you have an agent and/or publisher or are you self-published? If self-published, do you use a professional editor? If traditionally published, who is your publisher?
I don't have an agent. Frankly, more than 130 agents rejected me, but I was lucky to receive a contract offer from traditional publisher Silver Knight Publishing and I'm glad I signed it.
What advice do you have for writer's just starting out?
Never give up. If you wrote a book and received a lot of rejections, never give up.
Do you outline your stories or just go with the flow?
Well, sometimes I go with the flow, but most of the time I have to outline my new book, so I could know how the story has to end.
What does your writing space look like?
Messy most of the time, with lists of: books, comic books, movies, TV-shows, cartoons and video/computer games which may inspire me.
Do you have any writing rituals or interesting writing quirks?
Yes, before writing I need to have a cup of coffee and some movie soundtrack which can give me some energy for writing.
Who is your favorite author and why?
I have two of them: J.R.R. Tolkien and Dan Brown. Tolkien's books awoke my love to fantasy and Dan Brown's showed me how good and interesting can be fiction books about my favorite theme secret organizations.
What project are you currently working on?
Along with writing next book in Wizards' Secret Service series, I'm working on two more projects about Superheroes.
Do you see yourself in any of your characters?
Yes, in my first book I saw myself in Stanet Chambers, one of WSS agents. And this happens in any of my books.
What do you do when you're not writing?
I'm watching a lot of cartoons, movies, playing video games and do some work out.
Do you read your reviews and if so, how do you cope with a bad one?
Sure I do. It's very interesting to know if people liked my book and what they think about it. If people say 'I don't like it', it's fine, because tastes differ.
Has a dream every inspired any of your stories?
Yes, every time I get to my writing I'm thinking of my dream and that I have to reach it.
You can find George on his Facebook page, Twitter, Book trailer on Youtube.
Click on the books to buy: