Please give a warm welcome to J.S. Snow, author of Redemption and Resurrection.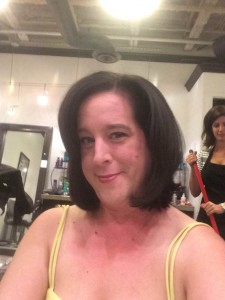 Tell us a bit about yourself and what you're currently working on or promoting.
First of all, thank you for doing this, it's a pleasure to be here. I currently work for a major HVAC company (the largest in the world in fact) as their invoicing coordinator; however I have been in the secretarial field now for twenty-eight years. I am originally from the Pacific Northwest (Go Seahwawks!) with a stopover in Utah for twenty-four years where my daughter was born and have lived here in Orlando, FL for the last ten years.
I have always wanted to write, but had put the dream on hold in order to raise my daughter as a single mother. She's grown now, therefore it's time for me to chase my dream.
I'm an avid reader, sweet tea aholic, lover of all things dark chocolate and I am seriously considering entering into a twelve-step program for my e-reader addiction.
Do you use test readers? If so, how many?
I have three core Beta Readers that have been with me since the beginning. Right now, I have added on five more with two slots left for my novella due to it will sold as a standalone work.
Do you outline your stories or just go with the flow?
Outlining is critical. While you do not need to stick to it verbatim, it's the map you need to write out what's inside of your head. You don't drive into unknown parts of country without a map do you?
What are your three favorite books including the authors?
#3 Beautiful Disaster – Jamie McGuire
#2 Poughkeepsie – Debra Anastasia
#1 Undeniable – Madeline Sheehan
Is there a message in your book(s) that you want readers to grasp?
Good will kick evils ass…..EVERY. SINGLE. TIME.
Do you see yourself in any of your characters?
Yes, all of them. All of them to one degree or another are an extension of my personality or what I have gone through in life. In my novella, I will include a special bonus chapter which features my fictional band Hells Redemption interviewing me, their creator. In that interview readers will learn a helluva lot about me that's for sure.
Is there a character that you enjoyed writing more than any of the others?
I'm a big fan of humor and honesty. Hiatt Stevenson, the band's drummer is my all-time favorite. He has zero brain to mouth filter and just lets it rip. He does this while also in the tone of Spicoli from Fast Times at Ridgemont High. If you have never seen the iconic eighties movie, do so as soon as you can, it will leave you in stitches.
Do you base your characters on people you know?
I interject certain family members into my story when I can, and one character in this series is derived from a co-worker and good friend.
How much time a day do you spend on social media?
Not a lot, but thanks to the smart phone, probably more than I should. I try and do my posts first thing when I wake up before I get ready for work and try and limit it to that. Sunday's are my biggest posting day as I have more free time on my hands and due to more people are on line.
Do you read your reviews and if so, how do you cope with a bad one?
I absolutely read every single review I receive. I've been blessed thus far in not receiving any bad ones, and I'm sure I'll not handle it well when I do receive one, but at least it's a review. People that say they have bought my book, read my book and not leave a review just dumbfounds me. Indie authors live on reviews, it's what keeps us going and keeps our books selling. Always leave a review whether good or bad on what you have read. It's important.
I have found the writer's community to be very supportive and welcoming. Please share writers that you recommend for us to check out.
You can find J.S. on her website, Facebook, Facebook Page, & Twitter.
Click on the books to buy: