Please give a warm welcome to Jim Melvin, author of The Death Wizard Chronicles, a six-book epic fantasy.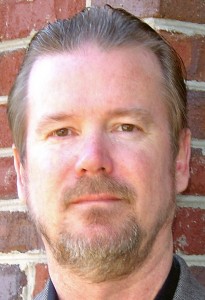 Tell us a bit about yourself and what you're currently working on or promoting.
First, thanks so much for providing this service to writers. I know it's a lot of work, but it means so much to anyone not named J.K. Rowling or Stephen King.

I am a long-time journalist who has worked in a variety of capacities at several large newspapers, including the St. Petersburg Times (now called the Tampa Bay Times), the Greenville News and the Charlotte Observer. But though I have supported myself and my family as a journalist, I consider myself to be a novelist trapped in a journalist's body.
I am currently working on finishing the editing and production aspects of my six-book epic fantasy titled The Death Wizard Chronicles — via my publisher, Bell Bridge Books. Five books have been released, with Book 1 (Forged in Death) having become an Amazon No. 1 best-seller free on Kindle.
What genre is your book?  Do you write in other genres as well?
My genre is epic fantasy. I adore it. My series is medieval in tone, but it takes place on an imaginary world filled with monsters, magic and mayhem. It is for adults, in the mold of Game of Thrones. It's definitely not Harry Potter, so don't buy it for your 12-year-old nephew. I have written one horror novel titled Dream House: A Ghost Story. It also is for adults only. However, I have written book 1 of a young adult epic fantasy titled Dark Circles. But I have yet to find a publisher for that.
I would say that epic fantasy is by far my favorite genre, with horror second and science fiction third.
Who or what inspires you?
I have read The Lord of the Rings more than twenty-five times. Does that answer your question?

But I also love George R.R. Martin, Stephen Donaldson, Steven Erikson and Stephen King. As for other inspiration, I am a student of Eastern philosophy, and it plays a large role in my work. I credit my second (and still-going strong) wife with providing me with the piece of the puzzle that fully awakened my creative bent. She is a Western-convert Buddhist in the Theravada tradition, and she introduced me to her religion. In addition to broadening my world view, the philosophical aspects of Eastern teaching provided excellent fodder for high fantasy. For instance, The Death Wizard Chronicles contains an ancient language that is directly translated from Pali, a dialect closely related to Sanskrit but now extinct as a spoken language. When translated to English, it is beautiful and erotic. Hence, my ancient language was born.
Has a dream every inspired any of your stories?
That's an interesting question, but I would have to say no. However, I have woken up in the middle of the night, had a sort of vision, and then raced to my computer to put it down so that I wouldn't forget it the following morning. I suppose there is a dream-like quality to that.
Do you have an agent and/or publisher or are you self-published?  If self-published, do you use a professional editor?  If traditionally published, who is your publisher?
I once had an agent, but he and I parted ways, amicably. I do have a traditional, mid-sized publisher — Bell Bridge Books — and the people who run it have been spectacular, especially in terms of the quality of the editing and production. My editor, Pat Van Wie, has been a NYTimes best-seller, and she really is brilliant. I owe a lot to her and to everyone at BBB. You really do form a familial relationship with your publisher and editor. I think of them as friends, not bosses — though in the end, the publisher is the boss.
Do you use test readers? If so, how many?
I do not use test readers, at least if you mean by that, beta readers. I'm not saying this is right, but I tend to trust my own instincts — maybe too much.
What advice do you have for writer's just starting out?
Rub sandpaper all over your skin to toughen it up. Because it's a big world out there, and beyond family and friends, the nicey-nicey stuff goes out the window.
Do you outline your stories or just go with the flow?
Because my series is more than 700,000 words long and has dozens of characters and interweaving plot lines, I was forced to keep a very detailed timeline — Day 1 this happened, Day 2 that happened, etc. But I did not outline up front, at least on paper. However, I had envisioned the series in my mind for more than twenty-five years before I wrote the first word of it (see www.jim-melvin.com), so the outline was burned into my memory in exquisite detail.
What does your writing space look like?
Semi-messy desk, large window overlooking a beautiful woods, gas fireplace to my right to keep me warm.
Do you have any writing rituals or interesting writing quirks?
I'm one of those "don't wait till the muse strikes" types. In other words, when I'm actively working on a first draft, I write 1,500 words or more a day come rain or shine. But when I'm in the revision process, I loosen the reins a bit and just try to put in a couple of hours each day.
What are your three favorite books including the authors?
1) The Lord of the Rings / J.R.R. Tolkien. 2) The Malazan Book of the Fallen / Steven Erikson. 3) The Chronicles of Thomas Covenant / Stephen Donaldson.
Who is your favorite author and why?
Tolkien will always own my heart. I also love John Updike (Rabbit Run remains the single most brilliant book I've ever read). Erikson (above) is the most creative author I've ever read. Donaldson is pure poetry in motion.
What project are you currently working on?
I'm in the final stages of finishing my six-book series. All are written, but the editing/production is very time consuming. Up next? A standalone prequel that will be heavy on dragons.
Is being an author your dream job?  If so, how long have you been chasing the dream?  If not, what would be your dream job?
Yes, it is my dream job. If I could support a wife and five daughters just writing novels, I'd be in paradise. Maybe one day …..
Is there a message in your book(s) that you want readers to grasp?
I consider my work to be literary, in the sense that I use literary techniques: theme, irony, symbolism, metaphor, allegory, parallel construction, etc. But theme is most important.
The theme of my series is that the fear of death permeates the human condition, creating a sort of subconscious madness. But my message is that it is not death you should fear, but rather a life lived in ignorance. My series goes into great detail about what "ignorance" really is. All this said, the deeper aspects of my work go on between the lines, and if you're the type of reader who is just looking for a fun, exciting read, my series has that too.
Do you see yourself in any of your characters?
My main character, Torg the Death Wizard, is 7 feet tall, weighs 300 pounds, is extremely handsome and can kick ass with the best of them. So yes, of course, I see myself in my characters.

Was one of your characters more challenging to write than another?
Two of my characters stand out in my mind: Vedana, the ancient and rascally female demon; and Bhayatupa, the ancient and narcissistic male dragon. Both grew in scope and complexity as the series developed, and many who have read the series have told me that they are their favorite characters.
How much time a day do you spend on social media?
Too much. Several hours each day.
Do you read your reviews and if so, how do you cope with a bad one?
I read every one and I hate the bad ones. They hurt my feelings deeply. Hence, the sandpaper.
I have found the writer's community to be very supportive and welcoming. Please share writers that you recommend for us to check out.
Chris Stevenson, an amazing author of science fiction
Bob Andelman, a nonfiction writer and author of many books
Dave Scheiber, author of several books and numerous major magazine features
You can find Jim on his website, FB author page, FB fan group, Twitter, blog, & Amazon page.