Please give a warm welcome to Juliet Greenwood, author of We That Are Left & Eden's Garden.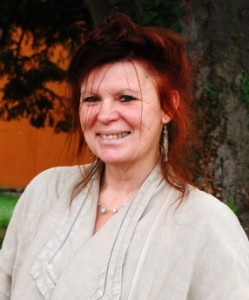 Tell us a bit about yourself and what you're currently working on or promoting.
I live in a traditional cottage in North Wales, between the Island of Anglesey and the mountains of Snowdonia. I have always had my nose in a book and always wanted to be a writer since I was a little girl, but I only took the plunge after a severe viral illness left me with debilitating ME for years. It didn't half focus the attention on what I wanted to really do in life, and fear of failure was the only thing holding me back. I'm now well and back to walking my dog and working in my garden halfway up a Welsh hillside, where (with the help of a polytunnel) I'm growing as much as I can. I love baking and making jams and chutneys and sloe gin for Christmas. I've even been known to make butter in a blender. It's delicious! I'm now using this to learn all about the dishes cooked during the 1914-18 war, which is when my current book is set.
What genre is your book? Do you write in other genres as well?
'We That Are Left' is a historical novel set during and just after the First World War. It follows the experiences of women during the war, both at home and on the frontline of battle. It's the time when many women came out of the home and from the shadow of their husbands and took over the running of businesses and services, so proving that women are capable of careers and living life on their own terms. At the time, women could not vote and were not even permitted to take university degrees. It's a fascinating period as it is when all that changed, giving women the opportunities we have today.
My first novel for Honno 'Eden's Garden' is a time-shift, set partly in late Victorian London and ending just before the First World War.
I also write stories and magazines under the pen name 'Heather Pardoe'
Who or what inspires you?
I am inspired by the lives of women in the past. Their stories are so often missing from history, but they did so much we never hear of. And they were amazing. I think it's sometimes easy to forget just how hard a fight it took for women to be independent, and how comparatively recently such freedoms were achieved.
Do you have an agent and/or publisher or are you self-published? If self-published, do you use a professional editor? If traditionally published, who is your publisher?
I am traditionally published by Honno Press. http://www.honno.co.uk/ Honno is a small independent press, run by women and based in Aberystwyth in mid Wales. It was established in 1986 to encourage women writers in Wales and bring the best of Welsh women writers to the wider public. They are wonderfully supportive and I've enjoyed every minute of working with them. My first book for them, 'Eden's Garden', was the Welsh Book Council's Welsh Book of the month for May 2012 and became a top 5 Kindle bestseller in August 2013. I've also been helped by being awarded a Literature Wales Writers' Bursary in 2013 to help me step away from my day job to concentrate on 'We That Are Left'.
What advice do you have for writer's just starting out?
Learn to see writing as a long-term ambition. The best way I've seen it put is that if you are learning the clarinet you expect it to take years before you perform in public, and even longer before you find yourself doing the solo at the Last Night of the Proms. It's the same with writing. There are very few writers who make it with their first book. Which is perhaps as well, because as all published writers will tell you it is the second book that is the most terrifying. The one you have to write to a deadline, with expectations, and while editing and promoting book one. That's when years of experience (and a bottom drawer of unpublished novels) are invaluable. So keep your eye on the prize and keep grafting.
Learn to take criticism. It's the only way you learn. A good editor or tutor is using years of experience to push you to do your best, and beyond. It's like the personal trainer for an athlete pushing them beyond the pain barrier. Good criticism is positive. It comes from a belief in your abilities that you might not have even realised yourself yet. And yes it's painful. Eye wateringly painful. But if you are going to be a professional and to make a career of this, get used to it. It's part of the process. No one gets anywhere without rigorous training. If you want to be the best, then listen and learn. Believe me, when you are pushed beyond your limits and it works, the buzz is incredible!
What does your writing space look like?
Overflowing! I use a traditional 'crog' loft, the only upstairs room in my cottage. It was originally a tiny space in the eaves where the children slept. Luckily I'm short and the previous owners extended this one a little, adding a window that looks out over my garden and then over Anglesey. I can see the most amazing sunsets, and I'm right under the flight path for the rescue helicopters. So I think I can safely say that Prince William has flown overhead when he was stationed on Anglesey!
The stairs are very steep and narrow, so everything has to be assembled up here. I have a desk and my computer and printer, and wooden shelving containing my files. And a dog bed for Phoebe, my collie, who is very sympathetic company, despite the snoring. Although she does tend to slink off downstairs if I start swearing at the computer! Even after a ruthless clear out there is never enough room, but at least I can leave everything so it's just as it was when I left. A good way to get back into the same headspace.
How much time a day do you spend on social media?
I try to do half an hour in the morning, and half an hour in the evening, with a brief dash in at lunchtime if I'm working on the computer. If I'm promoting a book I take longer, but I try to keep to fairly strict limits. I have a day job as well as my writing work and a dog who needs walking – not to mention my family and friends! I love social media, but I know how easy it is to get sucked in and forget the important bit – writing the next book!
What do you do to stay sane as a writer?
I take long walks to clear the head and solve knotty problems of the plot or character. I love meeting up with fellow writers, but I also spend time with my many non-writing friends. There's nothing like a bit of a glazed eyed look to pull yourself together and realise not all of life revolves around obsessing with the motives of your latest character, and there is a world out there!
Do you read your reviews and if so, how do you cope with a bad one?
Yes I do read reviews. I'm philosophical. It's all subjective. To be honest, by the time I was published I'd had so many rude things said about my writing it couldn't ever be that bad, especially as now it's more than evened out by the positive. It's worth it because I still get a huge buzz when I read that someone has enjoyed my books.
What has been the toughest criticism given to you as an author? What has been the best compliment?
I'm a wuss, so I'm not going to say exactly what they were. But both were from my wonderful, perceptive and inspirational editor at Honno, Janet Thomas, from whom I have learnt so much and grown as a writer.
If someone wrote a book about your life, what would the title be?
'She Never Gave Up'. Or as my Yorkshire dad would have put it: 'Occurd' – awkward, i.e. STUBBORN!
I have found the writer's community to be very supportive and welcoming.  Please share three writers that you recommend for us to check out.  
You can find Juliet on her website, blog, Facebook, and Twitter.
Eden's Garden is in the running for The People's Book Prize in the UK, this is the link if anyone has enjoyed it and would like to vote for it!
Click on the covers below to buy Juliet's books: