Please give a warm welcome to Marla Monroe, author of Their Independent Submissive, book 5 in the Knights in Black Leather.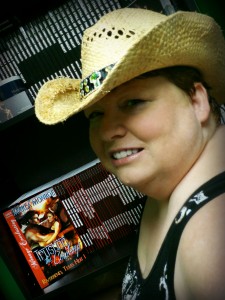 Tell us a bit about yourself and what you're currently working on or promoting.
I'm from the South, as in Mississippi. I love to read, write, listen to books on my MP3 player, chase my cats, and, well, read. Siren Publishing just released Their Independent Submissive, book 5 in the Knights in Black Leather.
What genre is your book? Do you write in other genres as well?
Men of the Border Lands is a post-apocalyptic ménage series. Wounded Warriors is an aftermath Military series. I write everything from bikers to cowboys and anything in between. The only genres I don't write are Inspirational and Historical and of course, YA. Presently I have bear shifters, wolf shifters, bikers, cowboys, Space Travel, BDSM, and much more.
Has a dream every inspired any of your stories?
Yes, I've had a few books inspired by dreams and a few dreams inspired by my books. 😉
Do you have an agent and/or publisher or are you self-published? If self-published, do you use a professional editor? If traditionally published, who is your publisher?
I don't have an agent. I'm published as a Siren Exclusive Author under Siren Publishing with over 70 books in their stables. I'm also published under Mary Alice Pritchard with DCL (Dark Castle Lords) and have several books self-published under that name, as well as one self-published book under Anna Riviera.
Do you set writing goals and if so, what are they?
Actually I do set goals as an author. Usually the first of November or closer to December, I write out what I want to accomplish the next year based on what I was able to finish that year. I'll list how many Siren books I plan to publish during the year then how many DCL books/short stories I plan to write and so on. Next I figure out how many words all of that will be and divide out how many words a month and then on down to the number of words a day I will need. I only write new material on Thursday through Sundays. I edit and other stuff Monday, Tuesday, and Wednesday. I set up my word count page in excel for the next year with that in mind. My huge goal this year is to write one million words.
Do you outline your stories or just go with the flow?
I don't do outlines because I have no idea what is going to happen in the book until it's on the page. The only thing close to planning that I do is that once I've written one or two chapters, I take the main characters and describe them based on what I've written and what they say to me. I include anything I know about them like their favorite drink or pet peeve or the car they drive. That's it. If the book is part of a series, I keep these pages in a series notebook to look back on when I'm writing the next book in that series.
What does your writing space look like?
I have two main spaces. One is an office in another building on our land that has lime green walls, a file cabinet and book cases full of books (mine and others), promos, and cat figurines. My computer is on a glass desk that has my book covers taped underneath so that it looks like my desk is a collage of book covers. My other space is in my bedroom. I have a huge picture window that I've had a custom made desk and built in bookshelves made for it. The area above the window is arched with track lighting and I've hung wind chimes all along the top. I write at both, but with my parent's health failing I spend more time at my bedroom desk to be close if they need me.
Is being an author your dream job? If so, how long have you been chasing the dream? If not, what would be your dream job?
Actually, being a veterinarian was my dream job, but I ended up becoming a nurse instead. I've since realized that as a vet, I would have tried to save the entire world of animals and failed miserably. As an author, I can save everything I want to, kill anyone I want to, and have a ball doing it. Writing became my dream job once I figured that out. And, it became enabled me to help save a few with donations I wouldn't have been able to afford otherwise.
Do you see yourself in any of your characters?
I do in almost all of my female heroines. I put a tiny piece of myself in every single one of them. Either they love Diet Cokes, or drive a Pathfinder, or love cats. They've been through rough relationships or lived out of their car or on the street. They've fought to accept themselves or they've put themselves through college. Some part of me always finds its way into them. The one thing they always have that I haven't yet achieved is to fall in love with the perfect for me man.
What do you do when you're not writing?
I work full time in a hospital, working 12 and 16 hours a day Monday through Wednesday. I take care of my parents who live with me. I write, I read, and I spoil my cats. When I have the time, I sit outside on a chair or the swing with my cats and just listen to the wind and pretend the busy traffic is a babbling brook. But that's rare these days.
What do you do to stay sane as a writer?
That is so funny to me. Writing is what keeps me sane. Without it, I would have ended up a basket case a long time ago. It relieves the stress of my day job and the pressures of taking care of my parents while I watch them grow old and too weak to care for themselves. It gives me a few hours at a time of living in a fantasy where I call the shots, sometimes. Without writing, my world would be seen through bars while I wore a straitjacket and pretended I was getting hugged.
Do you read your reviews and if so, how do you cope with a bad one?
I don't read reviews from anywhere other than Bookstrand. They would bounce me all over the place when I know that it is one person's opinion on a day that could have been horrible or wonderful. The only opinions I listen to are my editors, my publisher's, and readers who personally contact me to tell me what they think. If they took that much time and effort to speak to me, I listen and use what I can. I appreciate that they bought my book and read it. Those are the people who invest in me so I try to make that investment worth their while.
I have found the writer's community to be very supportive and welcoming. Please share writers that you recommend for us to check out.
You can find Marla on her website, blog, forum, Twitter, Google+, Facebook, Amazon, & Bookstrand.
To find Marla's latest book, click below or on the Amazon link.