Please give a warm welcome to Mikule Walsh, author of short-stories Four Walls and Unhappy Holiday.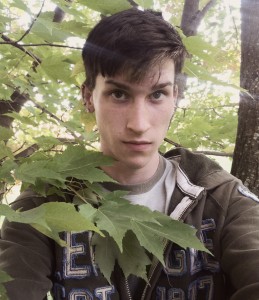 Tell us a bit about yourself and what you're currently working on or promoting
I'm Mikule Walsh, I'm 20 years old, and grew up in the Small town of Norwalk, Ohio. Right now I'm working on getting my Writing career up and going starting from the bottom and working my way up.
Who or what inspires you?
I find inspiration in just about anything, everything has a story to tell and I like trying to figure its story out. I also find a lot of my inspiration from music, the story behind them is what helps me keep going when I'm writing.
Do you have an agent and/or publisher or are you self-published? If self-published, do you use a professional editor? If traditionally published, who is your publisher?
I am self-published, I do not use a professional editor at the moment, I use Family that read a lot and easily pull out mistakes (Grammar, spelling, and what needs to be added onto or taken out), I normally have one or two people read what I have done, to get more than one opinion.
What project are you currently working on?
Right now I am working on accomplishing an 80k word book called the 'Guardians', while doing short stories on the side (Doing short stories on the side also help me with my book if I am having issues getting a particular part into the book.
Is being an author your dream job? If so, how long have you been chasing the dream? If not, what would be your dream job?
For a long time I have thought about becoming an Author, for a few years i did not chase that dream, due to thinking i did not have what it took, I finally (a month ago) started perusing it as a career, getting good feedback from people.
What has been your best moment as a writer?
The best moment(s) I have had as a writer, are the support I have gotten, along with the great feeling of accomplishment once a short story has been completed and out there for the world to read. I thrive off of the accomplished feeling, and support, it is what keeps me going along with it being my inspiration.
What do you do when you're not writing?
When I am not writing away, I am Listening to music, or watching TV along with some other hobbies of mine, getting ideas, or plots for my story(s).
How much time a day do you spend on social media?
I spend several hours a day on a social media site, it's never predictable, you never know what will be going on at that particular moment.
Do you read your reviews and if so, how do you cope with a bad one?
Yes I read reviews! In my opinion all reviews are good (even bad ones) although some reviews may hurt the criticism is good, it helps with writing, and i find really bad reviews as a challenge to wrong them with their thoughts on my writing.
Has a dream every inspired any of your stories?
Absolutely one of my short stories was an entire dream that I had, I keep a notepad and pen on my nightstand at night in case I where to wake up in the middle of the night to quickly jot down what I had dreamed or for in the morning to write it all down so I do not lose any of situations, actions that had occurred during them.
Do you outline your stories or just go with the flow?
There are times where I will jot down ideas, plots for a story/book, and work from that, there are other times i will sit down write a paragraph and just continue with what my mind comes up with. So it is really a mixture of both.
What does your writing space look like?
My writing space in the beginning is neat and in order, after a couple of hours of writing outlining plotting etc it becomes cluttered, but I remember where everything is placed and what order it is in.
What do you do to stay sane as a writer?
I stay sane by taking breaks every half hour or so, unless I am full force into writing, then I stop when I think about it. I can get so lost into what I'm writing I forget to take breaks. Days that I write nonstop, I usually take the next day for a break.
Click on covers to buy: