Please give a warm welcome to MJ Nightingale, author of Fire in His Eyes.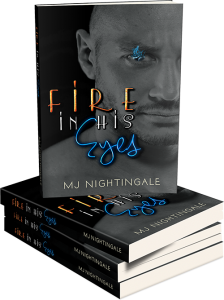 Tell us a bit about yourself and what you're currently working on or promoting.
I've just finished writing my debut novel, Fire in His Eyes, and I am working on promoting it and marketing it. I am learning all the technical aspects of the new digital publishing world, and want to get the word out about my book via facebook, Goodreads, and twitter. I am also writing a second novel inspired by one of the characters in my first book, Ana.
I have two other novels on the horizon, one with author Chelle Bliss. We are planning on writing alternating chapters in a different POV.
What genre is your book? Do you write in other genres as well?
The genre of this book is romantic erotica. It is full of sex, passion, love, lies, secrets, and pain. I also like to write short stories, poetry, and song lyrics.
Who or what inspires you?
Everything I read inspires me. I love Poe's complicated sentence structure, and Hemingway's simple sentence. I love to mix the two together in my prose. I love the drama and dark moodiness of Jane Austin's characters. I love the sex scenes in Lynsay Sands and Eloise James. I love James Patterson's cliffhangers at the end of every chapter. I love the depth of symbolism in Emily Dickinson. I tried to use a lot of these styles, structures, and literary devices in my work. I am very eclectic in my reading, and wanted to show that influence in my book. If I could have squeezed in the humor of Mark Twain, I would be a happy woman.
Do you have an agent and/or publisher or are you self-published? If self-published, do you use a professional editor? If traditionally published, who is your publisher?
No, I do not have a professional agent or publisher. I may do that if this book is well-received. I have been an English Teacher and have a pretty good grasp of grammar, mechanics, and punctuation. I am currently having two other people read it to look for problems in context, and clarity. I may have a beta reader look at it, but am a little afraid of putting it in the wrong hands before it is published.
What advice do you have for writer's just starting out?
Write the first draft without going back and looking at it for errors, or any other problems. Once it is done it can grow, and bloom. Know where you want to go, it makes finishing something that much easier. I do an outline. A sentence for each chapter, and then I develop each chapter. Once you have the basics down, then comes the best part, making your character's come to life. The worst part is editing it. But, it is worth it. It must be done by professionals or trusted friends who will be honest with you and have the ability. Because, if they are not getting it, then your readers won't either.
Do you set writing goals and if so, what are they?
I write for two hours in the morning, two in the afternoon, and then when my children go to bed I write for as long as I am inspired. I need to sit down to get things down and have a formal writing time. I also need to get away from it too. While I am doing the dishes, or making the beds, I am thinking about how to proceed, or clarify something. I am a bit OCD, but I am a firm believer in making the time to write.
Do you outline your stories or just go with the flow?
I outline. If you don't, you tend to ramble. As a teacher of creative writing for ever fifteen years, this is my number rule to my students when it comes to prose. Plan. Plan. Plan. If you don't know where you are going, how are you going to get there. That is what I tell my students. It is the truth.
What project are you currently working on?
I have Ana's story coming out next. She is Monica's sister from Fire in His Eyes. I am also going to start a book with Chelle Bliss after Christmas, so those two books I will be working on at the same time. Over the summer, I went to do a book with several Indie authors who like to right romance/erotica. I have to get to know some better. Facebook is a good tool for that.
Is being an author your dream job? If so, how long have you been chasing the dream? If not, what would be your dream job?
I have been chasing this dream my whole life. I wrote a novel, not a very good one, when I was 24. I have more experience now. I am 43 and plan on retiring from teaching in the next two years. I am ready for a change, and I want it to be writing more than anything.
What challenges have you faced in your writing career?
Time to write is the biggest challenge. Working full time, being a mom of two four year olds, living far from where I work–these were all obstacles. I had surgery and was at home for a few months. It gave me the time to do this. Thank goodness because after accomplishing this task, and writing a book that I am very happy with has shown me that I can do this.
Is there a message in your book(s) that you want readers to grasp?
Don't give up on love, and you need to make yourself happy before you can please others. If you don't do what is right and best for you, then you are not the best for them. That is Victor's theme. He is the hero of the novel, or the villain? You'll have to read to find that out.
Do you see yourself in any of your characters?
I see myself in both Monica and Victor's story. You have to write about what you know to make it come alive for your readers. Their emotions are my emotions. Some of Monica's background story is my background story. Everything after chapter five is pure fiction. My husband made me say that.
Do you base your characters on people you know?
Yes, every character is based in someone I know. I take their appearance so I can describe it well, I take their personality, their hand gestures, their facial ticks, all of it to make it come alive on the page to the reader, so that it creates a movie in the mind. The only thing that is different are their actions. Those are made up. Those are fantasies.
If someone wrote a book about your life, what would the title be?
Picking Yourself Up Off the Floor and Starting All Over Again – long title I know, but it describes my personality and motto – if at first you don't succeed try try again
I, Blakely, have found the writer's community to be very supportive and welcoming.  MJ, please share a writer that you recommend.  
Chelle Bliss. She is a friend and a new novelist.
You can find MJ on Facebook, Facebook page, Twitter, Goodreads and authormjnightingale@gmail.com
. Please click on the cover picture or links to buy her novel, Fire in His Eyes.