Please give a warm welcome to Nancy Sartor, author of Bones Along the Hill.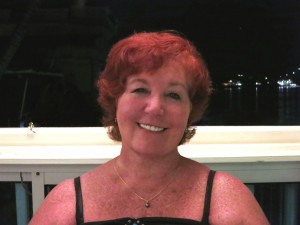 Tell us a bit about yourself and what you're currently working on or promoting.
I am a Nashville writer with many years of experience, a member of Romance Writers of America, Mystery Writers of America, and Sisters in Crime. I am a proud graduate of the Donald Maass Breakout Novel Intensive Classes, his micro-tension classes and the Writers Police Academy. I am president of Word Spinners, Inc, one of the oldest writing groups on the internet and a member of the Quill and Dagger writing group in Nashville, which boasts among its members Jaden Terrell and Chester Campbell.
BONES ALONG THE HILL, a romantic suspense (heavy on the suspense) debuted November 18, 2014 on all electronic sites.
Neva Oakley is a funeral facial restoration expert with a legendary skill at making the dead look alive. But all her talent cannot bring back Gray Ledbetter, her first love, who took his own life ten years ago. Davis Pratt, too, is consumed. Long ago his younger brother disappeared, and Davis won't give up hope. Perhaps that's why he and Neva are such a good couple. Or perhaps that's why they can't move forward. Then the search leads them to the Oakley cemetery and a murder tied to a human trafficking ring. Suddenly, impossible crimes threaten both family and friends, crimes that cannot be ignored. Not even the Nashville PD can keep Neva safe, but if she and Davis succeed, together they just might solve all their mysteries and free each other to embrace their future.
Do you have an agent and/or publisher or are you self-published?
Boroughs Publishing Group is publishing BONES ALONG THE HILL. I am extremely fortunate in having the wonderful Camille Hahn as my editor. She and I think alike so nearly every suggestion she makes is easy to take. I understand that's not usual among authors and editors. In fact, the relationship is often quite fractious. If self-published, do you use a professional editor? If traditionally published, who is your publisher?
What advice do you have for writer's just starting out?
When I began, a published writer said she would give me the best advice I'd ever get. That advice was to quit. I did quit. I walked away, gave it up, didn't touch a keyboard for two years. But I wasn't happy or fulfilled. When I told her I was beginning again, she sighed and said, "Well, damn. You're a writer." Her point was that if I could quit, I wasn't a writer and shouldn't waste my time. My advice to a beginning writer is this: If you want something easy, fast and lucrative, you've picked the wrong thing. Writing is the hardest thing I do or ever have done. Even if you're one of the lucky authors who makes a living wage, if you divide your work hours into your salary, you're still making minimum wage. Search your soul. If you want to write because you're bursting with things to say, want to make a difference in the world, want to spend 350 pages discussing something among people who don't exist, then you are a writer, god help you, and what you should do is write. Write every day, read everything you can find on the subject of writing, take classes, join groups, but above all write.
Do you outline your stories or just go with the flow?
I do both, but I'm a character-driven writer, so outlining gives me the general structure, but the characters often rebel or simply whisk the steering wheel from my hands and careen the story somewhere I couldn't have predicted. I know that sounds like hooey. Characters are imaginary people who came directly from my synapses, but once they exist, their personalities and experiences will drive them in one direction or another. There are probably writers who can foresee those directions, but I am often very surprised by where a story goes.
What does your writing space look like?
I write in a leather recliner in my den. It's a large, sunny room with green walls and lovely paintings. The windows to my right overlook a deck that leads to a swimming pool backed by tall red oak trees. I often see hummingbirds on my deck and larger birds flitting among the tree limbs. My laptop is my instrument of choice, although I have a honker of a desktop in my study. Unfortunately, the study does not come with a swimming pool view.
What are your three favorite books including the authors?
In order of preference:
1. A Prayer for Owen Meany by John Irving
2. Memnoch the Devil by Ann Rice
3. Atlas Shrugged by Ayn Rand
What project are you currently working on?
I am currently working on a paranormal romance, BLESSED CURSE. Jorie Wainright and Logan Mathis work feverishly to banish ghostly Jennifer Asbury from their lives before she takes the life of their unborn child.
What has been your best moment as a writer?
I opened an email from Camille Hahn and read, "Nancy, we love this book!"
Is there a message in your book(s) that you want readers to grasp?
Women are not meant to be abused would be the first and most important. Even in this day of enlightenment, many women still carry the scars of abuse, still believe they deserve it, stay around for more. The second is that human trafficking is no longer just a blight on foreign countries. Trafficked women are no longer just from faraway places. American women and girls are trafficked every day, not to mention children. All of us should work to eliminate this scourge from our borders.
Do you see yourself in any of your characters?
Claudia, maybe. She's a pretty bottom-line lady and so am I.
Do you base your characters on people you know?
No. I think most writers will agree with me that characters are composites. Neva's hair is like my daughter's, but she was not the model for Neva. We writers collect bits and pieces of everyone we know or meet, store them in the "character bin" in our memories and use them to devise people with whom we want to spend 350 pages. It's not a conscious thing. The character, at least in my case, often springs forth fully created, but she's got parts from the "character bin" nonetheless.
How much time a day do you spend on social media?
More than I should and now that I have a novel to market, I have the excuse of needing to polish my connections. I would guess I spend a total of one or two hours a day on Facebook and Twitter. This does not count email.
What do you do to stay sane as a writer?
I'm unaware that sanity is a requirement for being a writer (g).
I have found the writer's community to be very supportive and welcoming. Please share writers that you recommend for us to check out.
You can find Nancy on her website, Twitter, and Facebook.
Love this cover! Click on the book to buy: