Please give a warm welcome to Nicky Jayne, author of Embracing Life, Embracing Love, Footprints, & Taking Flight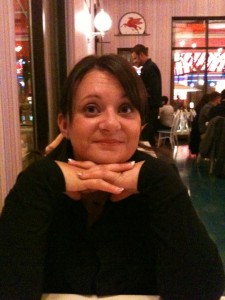 Tell us a bit about yourself and what you're currently working on or promoting.
Hi all! My name is Nicky Jayne. I am 31 yrs old, living in Las Vegas with my husband and two boys. We have been stationed in Las Vegas for 8 years. I am a lover all of all things fluffy, I have 2 cats and 3 dogs. Who keep me company when I am holed up in my office writing. I have three books out right now, Embracing Life, Embracing Love which are the first two books in the "Embrace Series" I also have Footprints which is known as my NanoWrimo novel, which I completed in 23 days. Taking Flight is my latest release, out on Amazon as of February 14th. I am currently working on my 5th novel "Grounded" which will release in the next couple of months.
What genre is your book? Do you write in other genres as well?
I write generally young Adult novels, but I am looking to write an Erotica novel at some point this year… As the ladies say. It's time to cross over to the dark side
Who or what inspires you?
My family, my sons love what I do, they could sit and watch me for hours on end whilst I write. They are my number one fans!
Has a dream every inspired any of your stories?
I wouldn't say a dream, maybe some events in the past yes. But my books are not based on them, just added details.
Do you have an agent and/or publisher or are you self-published? If self-published, do you use a professional editor? If traditionally published, who is your publisher?
I was fortunate enough to be picked up by a publisher at the beginning of the year! My books are now published through Bar Publishing.
Do you use test readers? If so, how many?
I love my Betas/Test readers. I couldn't ask for a better team. I have 5 currently. I try to get a fresh set of eyes with each my books also. So I look for a new beta, who has never read my work!
What advice do you have for writer's just starting out?
Don't give up! Do it for the right reasons, not for the limelight! That's not the reason you write. Always remember not everyone sees your books the same, you will have those who love them, then who are not so sure. Faced with bad reviews, let it roll of your shoulder, learn from them, you will laugh about them one day.
Do you set writing goals and if so, what are they?
Yes. I try to reach 2K a day, some days are harder than others. Especially if a character is misbehaving, but then there are those days that it just flows and the words won't stop!
Do you outline your stories or just go with the flow?
I generally just go with the flow! Somehow it always works out!
What does your writing space look like?
Like an office LOL! I have everything in here. Its warm cozy and mine! When the door is shut don't enter! When the door is open, enter at your own risk!
Do you have any writing rituals or interesting writing quirks?
I have to have music! I cannot start writing until I have found the right playlist!
What are your three favorite books including the authors?
I am a big fan of Kelly Elliott, I love all of her books! Wanted is just one of my favs from her.
B.J Harvey! Lost in Distraction was the first book, I read of hers and I simply fell in love!
A.L Jackson, I love all of her books, Take this regret, Pulled, When we collide. The first thing that pulled me to those where the covers. I couldn't put them down.
What project are you currently working on?
I am currently working on my next release "Grounded" the second book the "A hearts Revenge" series. This series is a lot of fun. I am fortunate to work with an awesome model for the covers. It's different from what I am normally write, OK well maybe not.. Ugly tears are a definite, but I have added so much more to them. The characters really took over on this one!
Do you read your reviews and if so, how do you cope with a bad one?
I do! At first they were hard to take, but as time has gone on. They haven't affected me as much… I use them as a stepping stone to make my work better.
What has been the toughest criticism given to you as an author? What has been the best compliment?
The worst would have to be that, my stories are unbelievable. That only fueled me to research more and get my facts straight before I put them on paper. The best would have to be that loved the story! Knowing that someone will continue to buy my books to see how the characters and storyline progresses because they loved the first one

I have found the writer's community to be very supportive and welcoming. Please share writers that you recommend for us to check out.
You can find Nicky on her Facebook page, Twitter, blog, website, and Amazon page.