Please give a warm welcome to Peggy Bechko, author of Stormrider.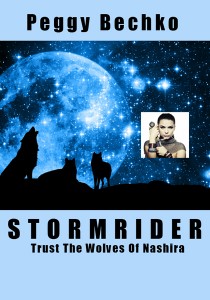 Tell us a bit about yourself and what you're currently working on or promoting.
Hi Blakely and thanks for having me I'm a frequently published author with Doubleday, Harlequin, Pinnacle, Five Star, The Fiction Works, Manor and others in addition to being an optioned screenwriter. I've enjoyed writing in several genres: romance, western, SciFi/Fantasy and animated.
It seems I always have more than one project in the works. Right now I've pulled out a fantasy romance I began work on several years ago just as my mother fell very ill. I've done many projects since then but have just now pulled out the manuscript I loved and am continuing on with it. Hopefully it'll be released by the end of the year or early in 2014. Tentatively titled Serpent's Tail.
But what I'm promoting currently is my book in the SciFi/Fantasy genre, Stormrider. It's a great adventure across an alien world ~ Plunge into adventure, meet the ancients, defeat the slavers and join with the unique and telepathically talented animals of Nashira ~ animals keyed to guiding the path of man. Animals thought to be myth only, but are so much more. It's getting 5 star reviews and is available in Ebook and paperback editions.
Who or what inspires you?
There's a tough question. I think life, wonder and mystery inspire me. I started writing when I was about 12, so I got an early start with a vivid imagination. I had encouragement from my mother; discouragement from my father and a friend who dared me to write westerns at the time. Encouragement made me want to do more. Discouragement brought out my stubborn side and I was determined to write and the western thing was darn fun – causing my first published novel to be a western published with Doubleday.
Do you have an agent and/or publisher or are you self-published? If self-published, do you use a professional editor? 
I've had agents in the past. A couple good, one very good and one downright awful. Some have done excellent things for my career and one darn near tore it apart. Right now I'm without an agent and have published with The Fiction Works online and self-published, re-releasing in digital form books that were published only in hard copy and releasing original work in fiction and non-fiction. My latest non-fiction release was a n EBook, The New Grown UpsDisney World Guide Book which is selling well on Kindle. It was a fun project after a visit to Disney World with just my husband and I decided adults really do have more fun than the kids!
As to the professional editor. No, I haven't used one as yet. I'm fortunate to have a couple of readers who are of great help.
What advice do you have for writers just starting out?
Write. Seriously. Write a lot. And consider all your options carefully. Agents are great for some – not so much for others. Self-publishing is wonderful for some – can be a nightmare for others. Consider your goals and how you want to achieve them, then move forward.
But most importantly, write, a lot. Oh, and read a lot too.
Do you outline your stories or just go with the flow?
My outlines are very sketchy and usually turn out to be more of notes on characters and places and perhaps on the story's end. Then I pretty much fill in the blanks as I go.
What does your writing space look like?
It's an ebb and flow of tidy vs. huge mess. I have an L shaped desk, papers and books everywhere and am about to get an accessory that will allow me to convert to standing desk so I don't continue to sit all the time. I have daylight lighting as it's much more comfortable for me and I confess to having a few toys on my desk (such as a Stitch snow globe, a yeti, a Stegosaurus that walks and weird, squeezable critters that I use to exercise my hands betweentyping bouts. They're round, yellow and their eyes bug out when I squeeze. What can I tell you, I go to Disney World, I'm just a big kid.
What project are you currently working on?
Make that plural – always plural. Right now I've recently completed rewrite of a screen script on notes; I'm working on bringing more of my hard copy only books to digital format (romances Cloud Dancer and Dark Side of Love and westerns Hawke's Indians and Blown To Hell are already there available on Kindle) and reworking the SciFi Fantasy Serpent's Tail I mentioned earlier. I also recently learned how to put together some video and produced book trailers for Stormrider and Hawke's Indians.
Is being an author your dream job? If so, how long have you been chasing the dream? If not, what would be your dream job?
LOL, it must be since I've been writing since I was about 12 and had my first book published by Doubldey when I was 22. I've always loved words and putting them together – even when I was a rotten speller and didn't do the grammar thing very well. Since that first book was published in 1972, you do the math.
What book are you currently reading?
Right now I'm reading Corpus Christie by Luke Romyn – an Ebook. Luke writes great stuff. Also have on my shelf next to read is Christine Feehan's Styxx and just read Dean Koontz's Deeply Odd and looking forward to his new novel in December, Innocence.
What has been your best moment as a writer?
When I had my first agent – back in the old days – and the manuscripts were typewritten (remember typewriters?) and the agency went belly up and I believed my manuscripts were lost leaving me with carbon copies that would have to be retyped. The best moment came when I got a call from an agent, formerly with that agency with an offer from Doubleday for my first book and an offer to represent me. I accepted on both counts! That was really a moment!
What challenges have you faced in your writing career?
Lots of them, haven't we all faced challenges in all our lives? Some of my biggies were holding down full time jobs while writing and publishing novels – and learning how to write screen scripts. Getting married and working out how to balance work, home, husband, ailing mother and still keep writing (for a couple of years the writing lost except for contract ghost writing jobs). Dealing with the above-mentioned awful agent, separating from him and moving on. Are those enough – or shall I continue with my list <g>
What do you do when you're not writing?
Spend too much time on social media! Well, not altogether true. Do spend a lot of time chatting with writing friends, but I also spend a good deal of time on my most fun endeavor other than writing – making jewelry. It's relaxing an fun and when I use my hands to create it frees my brain to create other things – well, like stories. I have a shop on ETSY called Silverstreak where I sell my one of a kind creations.
Twitter 
Facebook – main page
Facebook fan page 
Goodreads
Pinterest
LinkedIn
Guest blog at TVWriter
Official Website
Blog for Writers & Readers
Click covers to buy additional titles from Peggy: