Please give a warm welcome to Sarah Daltry & Pete Clark, authors of Backward Compatible.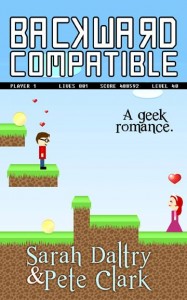 Tell us a bit about yourself and what you're currently working on or promoting.
Sarah: Like my author bio says, I write about people I feel are real. I don't necessarily escape through reading. Instead, I see books as a way to feel more active in the human experience. Right now, I'm promoting a gamer geek romance that I co-wrote with Pete – because we're both gamer geeks and I guess it was important to us.
Pete: I like cheese. We're promoting Backward Compatible, a geek romance.
Do you have any writing rituals or interesting writing quirks?
Sarah: Not really. I have horrible ADHD and I am always in the middle of like twenty things.
Pete: When I finish something, I listen to terrible 80's music in celebration.
What are your three favorite books including the authors?
Sarah: The Sun Also Rises (Ernest Hemingway), The Catcher in the Rye (J.D. Salinger), and Paper Towns (John Green)
Pete: Dandelion Wine (Ray Bradbury), Catch-22 (Joseph Heller), and Neverwhere (Neil Gaiman)
What project are you currently working on?
Sarah: I'm continuing with the Flowering series. I have Alana's story, plus the conclusion of Jack and Lily's. I'm also writing more in the Eden's Fall trilogy, and a YA fantasy romance called Primordial Dust.
Pete: Several things. A few historical horror ideas, some short stories, and an obnoxious noir parody.
What has been your best moment as a writer?
Sarah: I still can't get over the fact that people have actually read things I wrote. It's pretty awesome.
Pete: Hearing that my books have made people laugh.
Is there a message in your book(s) that you want readers to grasp?
Sarah: Like I said, I tell stories about real people. I'd like people to see themselves in the story, to find characters who remind them of themselves and who make them feel less alone in the world.
Pete: I want people to enjoy them, to be entertained.
Do you see yourself in any of your characters?
Sarah: Jack in Flowering has a lot of my darker characteristics, and Nora and Katie both share my sarcasm.
Pete: I have an obnoxious sense of humor so most of my humorous characters have a similar sense of humor.
Is there a character that you enjoyed writing more than any of the others?
Sarah: I tend to enjoy all of them, because I feel sort of honored that they want me to tell their stories. However, it is fun to write people like Nora and Katie so I can get my sense of humor in there.
Pete: I like writing humor, but I have enjoyed writing most of my characters. In Backward Compatible, I liked Lanyon most.
What do you do when you're not writing?
Sarah: Hang out with my cats. Also, I am a serious gamer, although I've had less gaming time lately with writing and work.
Pete: Work, watch sports, play Xbox.
Has reading a book ever changed your life? Which one and why, if yes?
Sarah: Catcher in the Rye was the first time I read a book and felt like someone completely understood the way I saw the world around me.
Pete: Hitchhiker's Guide stood out to me because it made me realize just how far pure chaos could take a story.
I, Blakely, have found the writer's community to be very supportive and welcoming.  Sarah & Pete, please share three writers that you recommend. 
Sarah's Bio: Sarah Daltry writes about the regular people who populate our lives. She's written works in various genres – romance, erotica, fantasy, horror. Genre isn't as important as telling a story about people and how their lives unfold. Sarah tends to focus on YA/NA characters but she's been known to shake it up. Most of her stories are about relationships – romantic, familial, friendly – because love and empathy are the foundation of life. It doesn't matter if the story is set in contemporary NY, historical Britain, or a fantasy world in the future – human beings are most interesting in the ways they interact with others. This is the principle behind all of Sarah's stories.
Sarah has spent most of her life in school, from her BA and MA in English and writing to teaching both at the high school and college level. She also loves studying art history and really anything because learning is fun.
When Sarah isn't writing, she tends to waste a lot of time checking Facebook for pictures of cats, shooting virtual zombies, and simply staring out the window.
She has written several books, most notably Bitter Fruits, an urban fantasy in the Eden's Fall series, and the Flowering series, including Forget Me Not, Lily of the Valley, and Star of Bethlehem. 
Pete's Bio: Pete Clark likes writing, animals, potato chips, and cheese. Midnight Riders is his first published novel, although he can also proudly say he finally finished Helix Crashing, the fantasy novel he has been working on for over a decade. In addition, he has written Across the Barren Landscape, a collection of linked Western short stories. He also writes plays, both dramatic and comedic.
When he is not writing, Pete tends to ignore everyone around him and obsess over sports.