Please give a warm welcome to Stuart Land, author of Endless Sky.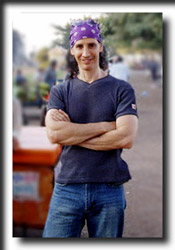 Tell us a bit about yourself and what you're currently working on or promoting.
Hi! My pen name is Stuart Land…wait, that's also my real name. Today, I'm a full-time novelist and screenwriter. Well, today and for the next few months, I'm a novelist. I might be a screenwriter for the next few months after that, though. Sometimes I'm also a sculptor and occasionally work on movies. I worked in Hollywood for 15 years doing sculpture for special effects, and twice within the last year and a half I went to Beijing to work on Chinese films. This turned out to be a double treat as they also bought one of my scripts. It also played havoc with my novel writing since I was in the middle of two novels at the time. 
Right now I've just started on book two of the ENDLESS SKY science fiction series. The first book is called THE SERGEANT'S PLEDGE, and book two is called THE THOUSAND GATES OF HEAVEN. Take a look at the cover if you have a chance. It's really cool. I made it myself, that's why I think that. I like all my covers, but then, I made them all, so I'm biased.
*** (The above "right now" was actually a few months ago.) What I'm doing in the present now is this: I'm in preproduction on my own Indie feature film! Yes, really. I wrote a Horror Thriller (with a lot of black comedy overtones) that will be shot completely in Thailand, with an all Thai cast, and in the Thai language. (Naturally, it will have excellent subtitles.) The script was written specifically to be shot with a low budget, but with a very high budget look. Though shot in Thai, it's designed to be a cross-over film. It's called, NIGHT KILL.
We've come quite far already. The script has been broken down and the budget and schedule completed. I have a world-class cinematographer, editor, composer, and line producer. I've been making 3D animated shots of select scenes, and I've completed the mock-up movie poster. I say mock-up because the casting isn't complete, so the people in the Poster are made up (Photoshop is my mistress). I'll do a poster reveal soon so you all can get a feeling for where I going with the project. Please check my writing website for the link to the upcoming dedicated movie page. By subscribing to the newsletter, you'll receive timely updates as to what's happening with the movie, behind the scenes info, photos, and videos. And even how you can get involved (if you've ever wanted to dabble in the movie biz). One thing I can tell you is, this is a lot more of everything than sitting alone in a room typing out my story ideas and letting my characters run rampant. ***
What genre is your book? Do you write in other genres as well?
My brain verges on the side of schizophrenia, but my personality is still intact. Because I have many interests (some would call it scatter-brained), I write in many genres: paranormal, Science Fiction, thriller, action adventure, vampire, etc. Sort of resembles my real life. Right now, five of my eight books are stand alone. They are lonely, so they long for nurturing readers. So far, I have two books in my vampire series, ORIGINAL BLOOD, and I've just started on book two of the sci-fi series. They are less lonely. A couple more books have suggested that they could use a sequel or such, so I'm considering it. Books and their characters can get so whiny, don't ya know.
Has a dream every inspired any of your stories?
My speculative fiction novel, EPIPHANY, was inspired be a dream. Actually, it was the dream. You know how when you wake from a realIy cool dream and then it immediately fades away, and you're like, "damn!" Well, I started writing like crazy to get down the plot. I even wrote a first chapter. It was a great story concept except for one minor thing that got lost along the way: all the characters. It took ten years to coax then back into the story. And that only happened because I decided to sit at the computer and not get up until I had rewritten that first chapter with a viable character. Well, I managed to do that, but for those who've read this book, they will see that once that first chapter was completed, I was still at square one. So I had to continue sitting there until the story took hold. Something clicked (it may have been the 9mm pistol), and I ended up writing all night. Because of all the research the story and characters needed, it still took me six months to complete the book. In the end, everyone was happy, except that one person who gave me one star.
Do you have an agent and/or publisher or are you self-published? If self-published, do you use a professional editor? If traditionally published, who is your publisher?
Right now, I'm self-published. And yes in deedy, I most definitely use a professional editor. He is the best editor in the world. I'm really fortunate to have him in my corner. He's not only good at what he does, but he actually makes the editing and rewriting process fun. I know this is hard for writers to believe, but we have such a good time. He constantly making me laugh. Not many editors can rip your work to shreds while making you laugh about it.
I'd like to add that editing is the one thing not to skimp on. You must do it. It is impossible to self-edit. Yes, you may be a grammar guru, but editing is so much more than that.
What advice do you have for writer's just starting out?
Read a lot. You've got a Kindle, or a phone, or a computer. There's no excuse. What, you can't hold a crying baby in one while holding an iPad in the other? Downsize, and by that I mean, use an iPhone. They're easy to hold. Once you've mastered that, read every genre, not only what you write in. Learn the craft. I'm mean, seriously, just because you learned to write in elementary school, doesn't mean you know how to write an effective story. Learn the do's and don'ts. You've got the Internet. Use it.
Do you outline your stories or just go with the flow?
I don't need no %&$@*&! outlines! Okay, seriously, most of you should use outlines. I used them for years because I learned writing through screenplays, which are tightly structured. Every little element needs to be in its place. Now, for me, it's intuitive. I wouldn't advise beginners to try this. Outlining is very important, even if you have a photographic memory. They help a lot. However, they can also short-change the creative flow. What do I mean by that? Many people (I want to say most, but I've never done a survey) don't understand what an outline is for. It's a show of intent. It's a guidepost to set you off in a direction. It's not a set-in-stone map. People forget this, and when their characters need to veer from their outline, all hell breaks loose. The dreaded writer's block can happen. Don't let that happen. You can veer. I give you permission. Later, after a s**tload of books or screenplays are under your belt, you can skip all that and go with the flow.
What does your writing space look like?
I have a very conducive writing space now. I either sit at my hand-made teak Queen Anne desk sipping imported tea from Argentina, or relax in my Corinthian leather recliner to write on my pseudo MacBook Pro. The white brick walls in my moderate size living room rise to a 15 foot vaulted ceiling above a hand-laid ceramic tile floor. Six five-foot tall arched windows on three sides give opulent views into a wrap-around garden of palm trees, lush tropical plants, and radiant flowers. I live at the base of a mountain, alongside a vast jungle and an ancient "Wat" (a 700-year-old temple), where the monks still chant four times a day. Song birds serenade me. Did I mention the imported Argentine tea?
What are your three favorite books including the authors?
Really, I can't name three favorite books. I mean, each book influences me in a different way. I like a lot of the Latin writers, like Gabriel García Márquez (One Hundred of Solitude), Jorge Amado (Tereza Batista: Home from the Wars), and Isabel Allende (The House of the Spirits). I also like George R. R. Martin (Game of Thrones), and on another end of the spectrum, Ayn Rand (The Fountainhead). Jeez, I almost left out Kurt Vonnegut.
What has been your best moment as a writer?
When I get into that groove where I'm no longer me and the characters have taken over and hours have passed, and when I come back to read what I wrote, I'm as excited as a new reader because I don't know what's going to happen next. Come on, you writers know what I'm talking about.
Is there a character that you enjoyed writing more than any of the others?
There are some characters who constantly make me laugh, so in that sense, they're very enjoyable to write. They range from a homeless sage named Petey Boy in CROSSING THE DOUBLE YELLOW, to snarky, irreverent vampire Taryn, from ORIGINAL BLOOD, to a witty 12-year-old girl in CLAIMING LIVES. I really bonded with Szejna from the vampire series, and became completely enamored with Ayira from EPIPHANY.
What do you do when you're not writing?
I live in an exotic land and am surrounded by incredible food, jungle, cultural events, food, ancient ruins, jungle, waterfalls, hiking trails, ancient temples, young people, old people, food, modern music, ancient music, dance, movies, nightlife, daylife, and massage, so basically way too many distractions.
Do you read your reviews and if so, how do you cope with a bad one?
I do read them. For the good ones (and I'm talking about at least five stars), I send flowers and cash. For the bad ones, I cry, then plan evil retribution.
Has reading a book ever changed your life? Which one and why, if yes?
A few books have changed my perceptions on life, so in that sense probably changed my life. Mostly, these were books I read as a teenager, like Ayn Rand's, The Fountainhead, Kurt Vonnegut's, Sirens of Titan, Garcia Marques', One Hundred Years of Solitude, and Hesse's, The Glass Bead Game. They each gave me insights, not only into the human condition, but in how people viewed one another and the world around them. They resonated with feeling deep within me. Plus, all three have completely different writing styles, and I loved each of them for different reasons.
If someone wrote a book about your life, what would the title be?
Wondrous Loves & Eclectic Tragedies
I have found the writer's community to be very supportive and welcoming. Please share writers that you recommend for us to check out.
You can find Stuart on his website, Amazon author page, FB page, LinkedIn, Twitter, Goodreads, Pinterest, Google+, and About.Me