Please give a warm welcome to Yveta Germano, author of Recklessly Yours & Choking Game.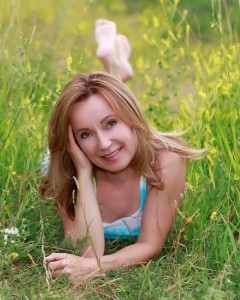 Tell us a bit about yourself and what you're currently working on or promoting.
I was born and raised in the Czech Republic. It's a beautiful country in the heart of Europe and if you haven't been there, you need to put it on your bucket list. I've been married to my American husband for over twenty years, we have two teenage daughters, and we live in Atlanta, GA. I'm currently promoting two books, the first one was released on October 12 and the second one five days later, on October 17, 2014.
The first book is Recklessly Yours — it's the first of a new series called Diary of a French Girl. It's about an 18-year-old French girl, Giselle, who never met her American father until her dad dies and she comes to the US for the first time to meet her wealthy grandmother. As a typical European teen, she has somewhat distorted view of America. So the book is a bit of a journey not just into her family but her love life as well. You see, Giselle loses her virginity in America to a former NAVY Seal who's hot but a bit wild. It's a new adult genre that has some erotic chapters, but it is a great story first and foremost.
The second book is Choking Game and I was inspired by a true event few years ago. The boy's tragic death hit me in a way I never expected, but out of it came the idea to find out as much as I could about what it is that drives kids these days to play such dangerous games or to even go as far as committing suicide.
The title Choking Game in my book is used as a metaphor for the world our kids live in today that is far different from what it was like only a generation ago. The book is about a teenager, MJ, who wants to commit suicide. The only thing that's still keeping him alive is his inner voice. He's literally having a conversation where the inner voice insists on MJ answering questions about why he thinks suicide is the only option left. I deliberately did not mention whether MJ is a boy or a girl. I wrote it so that the reader can decide on his own.
What genre is your book? Do you write in other genres as well?
Recklessly Yours is a New Adult erotic romance. Choking Game is a Young Adult book. These are my main two genres. I wrote some children's books before but I prefer Young Adult and New Adult now.
Who or what inspires you?
I'm probably the most disorganized author you've interviewed. I never organize my thoughts or even think what exactly my book is going to be about. I don't get up in the morning thinking I will spend the day writing. I don't write a synopsis, and I write thoughts and ideas only once the manuscript is almost finished. I often go back and re-write, though.
There are two ways I start a new book. I either sit down and "doodle" a sentence. The sentence becomes a paragraph, the paragraph grows into a page on the monitor, and then a page follows another page….. This is how I started Choking Game. All I did was write a Twitter tweet: I wonder what the world would be like if I didn't exist. And the rest of the book followed in a heartbeat.
Or, I get up one day and all I can think of is being alone, closing the door to my office and to the "outside world" because I feel something is pounding my head and I have to let it come out in the form of a new story. As crazy as it sounds, this is how Bring Me Back, my very first young adult novel, started. Once I do start to write, though, the story unfolds so quickly, I can barely keep up with the typing.
What are your three favorite books including the authors?
I have several favorite authors, so pretty much anything they write becomes my favorite book. I loved Crank by Ellen Hopkins because it tells a story in the most unique prose/verse style. I love Jodi Picoult and one of my all-time favorite books from her is My Sister's Keeper. I also enjoy suspense/thrillers. I could not stop reading Dan Brown's The Lost Symbol. I love reading and this question is next to impossible to answer. I just like too many books to mention.
What project are you currently working on?
A romantic erotica all told in verse. It's almost done and I must say, I loved rhyming and compiling these verses about love, sex, relationships, tension, desires and everything else. Great experience. I don't have the title yet.
Is being an author your dream job? If so, how long have you been chasing the dream? If not, what would be your dream job?
I'm not sure the "dream" is the perfect word for me. I just knew my whole life that I'd end up writing books. I grew up in the Czech Republic where education and literature is valued a great deal. We'd read and do reading and writing assignments all the time. That was the only kind of homework I didn't mind doing. I even kept journals with short stories and story ideas since I was like ten-years-old. But I got busy doing other things like moving to the US, going to college, I got married, had a busy and successful career in cancer research, kids, you name it. And then, after fifteen years, I realized I was really tired of working in a somewhat depressing environment with very sick people. I got out of the business and a few weeks later I simply sat down, wrote a sentence, then a paragraph, and three months later my very first manuscript for Bring Me Back, was finished. I got lots of great editorial advice from a very talented editor and I ended up rewriting all 400 pages 4 times. I guess that's how I learned the craft. I've been writing ever since, which is about four years now.
What challenges have you faced in your writing career?
Too many ideas pop in and out of my head and I want to sit down and write the sentences as they come…but I don't have enough time to do it. One can only write so much.
Do you see yourself in any of your characters?
With the way I come up with my stories, I supposed I have to have something in common with my characters. I think that's why I enjoy it so much whether it's a happy and fun experience, or a sad one. I get to revisit the past and make it better or worse in the present in a world I create. The opportunity to do this makes the entire writing process worth while whether I write for readers or simply for my own enjoyment.
Was one of your characters more challenging to write than another?
Absolutely. I had fun writing about Giselle, the French girl coming to America. I didn't have to think hard about how she felt. On the other hand, when I spoke as MJ, the main character in Choking Game, I bawled my eyes pretty much every day. Perhaps because the real event that inspired me will never truly pass. I mean, how do you get over a senseless death of a young, talented, wonderful kid who, even though was not, could have been your child. So, yes. Because I get inside my characters' heads and stay there until I finish the book, it can get pretty challenging.
Is there a character that you enjoyed writing more than any of the others?
Aliana, the main heroine in Bring Me Back. She's fierce, inquisitive, doesn't listen to anybody, and gets to do everything I'd love to do one day, like pass through the boundary of our present time and space, fall in love with a gorgeous human male clone, and experience clinical death and come back to remember the process of dying. She's awesome and that's why I'm making Bring Me Back a trilogy. I just can't get enough of her unbelievable story :).
What do you do to stay sane as a writer?
I gave that up. My friends and family know I'm not quite normal. I'm an Aquarius so it's written in the stars anyway. So, I don't pretend to be normal or sane at all times. The most important thing is that I don't take myself or my writing career too seriously. That alone allows me to be happy and not care what others think. That's how I stay "sane" on the outside and blissfully insane inside :).
Has reading a book ever changed your life? Which one and why, if yes?
Yes. I always wondered why I made certain decisions in my life, even though they made absolutely no sense. And I'm not talking about small, inconsequential events here. And then a friend of mine gave me The Alchemist by Paulo Coelho. I put the book in a bookcase and didn't read it. I suppose I wasn't ready. Six years later, I was looking for something to read and my eyes flew towards The Alchemist. I sat down to read, opened the book and did not close it until I was done. Then I went back and underlined every sentence that meant something to me. I practically underlined half of the book because it finally answered my many questions, even those why I made the decisions I made. I never questioned the "wisdom" of my inner voice again.
I have found the writer's community to be very supportive and welcoming. Please share writers that you recommend for us to check out.
You can find Yveta on her website, Facebook, Twitter, & Instagram.
Click on the books to buy: