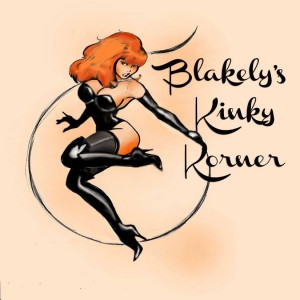 Please give warm hugs and a wet snog to Kinkster Neil. He is going to share with us today what makes him kinky and what really turns him on. Hopefully, we will all learn something or at the very least get a few new good ideas.

Blakely: Hi Neil. Thank you so much for joining us today! We are all looking forward to finding out what makes you kinky.
Neil: This should be really fun.
Blakely: What's your definition of kinky?
Neil: Anything outside the normal, boring, mundane sex.
Blakely: What makes you kinky?
Neil: I would have to say my fetishes. I love feet. I love sucking, licking and kissing them. I also like anal play. Stick a toe in my ass and I'm in seventh heaven.
Blakely: Do you consider yourself a TOP, a bottom or a switch or something else entirely?
Neil: Whatever the situation calls for.
Blakely: Why do you think you were attracted to your kink in the first place?
Neil: I would have to say that would be the feeling and the arousal during the first time I was introduce to the experience.
Blakely: Do you think you would ever be able to give up your kink if you fell in love with a person who wasn't into it?
Neil: I would hope to change her mind but yes for the right woman I would.
Blakely: Does any of your family know about your kink? Do you think they would be shocked?
Neil: Knowing my family, no I don't think they would be shocked.
Blakely: Is there any kink you wouldn't try?
Neil: I'm not a big fan of anything that causes pain.
Blakely: Has a lover ever asked you to try a new kink and it shocked you to find out they liked it?
Neil: What shocked me even more was that I liked it.
Blakely: What's the funniest thing that ever happened to you while you were getting kinky?
Neil: While sucking on her toes, the girl I was with decided to stick her finger in my ass and the shock sent me falling off the bed. However, I went back for more.
Blakely: Do you ever feel shame over your desires?
Neil: There's no shame in being different.
Blakely: If your lover came to you and said they weren't into your kink anymore, would you give up your kink or your partner?
Neil: I would have to say that I would give up kink if I was in love.
Blakely: Where is the oddest place you have ever masturbated?
Neil: I was out surfing and met this girl on the waves. She left, I stayed out in the water on my surfboard.
Blakely: Do you fantasize about people you know or create your own characters?
Neil: I usually use people that I know but after my artist rendered the female lead in my book, I sometimes fantasize about her.
Blakely: What kind of porn do you watch?
Neil: Being bisexual, I like several different things: foot porn, lesbian, and gay.
Blakely: Have you explored your bi side at all?
Neil: No.
Blakely: How long have you known you were bi?
Neil: I'm not sure, 20 years maybe… I'm not attracted to men, as a whole, just the sexual aspects… if you get my meaning…
Blakely: Sure I do. I think you can be sexually attracted without being emotionally attracted.
Neil: I'm just as happy role reversing with a woman…
Blakely: As in letting her dominate you?
Neil: As in letting her strap one on, yeah.
Blakely: What you would most like to try with another man?
Neil: Hmmm… probably giving head…I like sucking toes, I'm curious if I'd like sucking a dick… after that, I'd go bottoms up.
Blakely: Have you ever tried something out of your comfort zone and regretted it?
Neil: BDSM, like I said, I don't like pain.
Blakely: Can a kiss be kinky? If so, how?
Neil: Yes, it's all in the tongue.
Blakely: What's your top fantasy that you want to experience?
Neil: A bisexual threesome.
Blakely: What happened the first time you did something kinky? Was it fun or embarrassing?
Neil: She started rubbing on me with her feet as I was massaging them. She put one up to my lips and I just went with it and started kissing her toes and then started sucking on them. I liked it a little too much.
Blakely: Have you stopped dating someone that wasn't willing to experiment?
Neil: No, I'm not that shallow.
Blakely: Is kinky only kinky the first time?
Neil: Kinky is kinky all the time.
Blakely: Is kink compatibility as important as emotional compatibility in a long-term relationship?
Neil: It's close, but not quite. Emotional compatibility is the most important thing in a long term relationship.
A huge thank you goes out to Neil for sharing his kink with us. Thanks for being open and so honest with us.
If you'd like to be interviewed, please email at blakely.bennett@gmail.com or find me on Facebook.
For those who like kink, make sure to check out my Bound by Your Love Series and other books. ​Buy links: Amazon, B&N, Smashwords, iTunes and many other outlets.