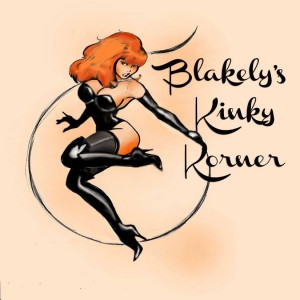 Please give warm hugs and a wet kiss to Kinkster Deanndra. She is going to share with us today what makes her kinky and what really turns her on. Hopefully, we will all learn something or at the very least get a few new good ideas.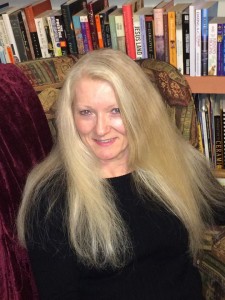 Blakely: Hi Deanndra. Thank you so much for joining us today! We are all looking forward to finding out what makes you kinky.
Deanndra: Ooooo, this is gonna be fun. Hope I don't embarrass anyone too much. But the ideas I give someone could get them into trouble. I hope they're fully prepared for that.
Blakely: What's your definition of kinky?
Deanndra: Hmmm . . . I'd say reading the Kama Sutra front to back and making notes, and hanging out in adult stores more than in grocery stores, shoe stores, or boutiques. Having a professional mechanic's tool chest full of toys and other goodies will do it too. Now I'm telling on myself, huh?
Blakely: What makes you kinky?
Deanndra: I want my sex to have a "bite" to it. And I have a great fondness for anything remotely restricting, if you know what I mean.
Blakely: Do you consider yourself a TOP, a bottom or a switch or something else entirely?
Deanndra: I'm a collared submissive. And I have no dominant tendencies in the bedroom and few out.
Blakely: Do you have a safeword and if so, what is it?
Deanndra: I do, and it's "red," but it's rarely needed. Sir reads me like a book. Plus before he uses any implement on me, he tests it on himself so he knows exactly what he's doing.
Blakely: Why do you think you were attracted to your kink in the first place?
Deanndra: I'm about to tell you something that I've never told anyone, even Sir (primarily because I never thought of it until now), but I remember using bobby pins as nipple clamps when I was a preschooler. I think I was just born with the need to ache. I can't explain it otherwise. It appears I'm just wired that way.
Blakely: Do you think you would ever be able to give up your kink if you fell in love with a person who wasn't into it?
Deanndra: A discussion about kink would take place before I ever got to that point. If he or she were someone who couldn't supply that for me, then I would think twice before I got more heavily involved with them.
Blakely: Does any of your family know about your kink? Do you think they would be shocked?
Deanndra: Yeah, my kids do and they don't want to discuss it! LOL Otherwise, I'm not sure if they know. Well, they do know what I write, so I'm guessing they have some idea at least!
Blakely: Is there any kink you wouldn't try?
Deanndra: I have zero interest in watersports – zero. I tend to keep blood play in a separate category, although it's technically part of watersports. I would try that in the form of needle play, but Sir has a squeamish stomach and that would be unwise. The thought of being tied to the headboard with him passed out across me does nothing for my libido.
Blakely: What do you think makes what you do kinky?
Deanndra: Thank you for asking me questions no one ever has before – I'm having to really think about the answers. Look, I live in the buckle of the bible belt where using lubricant makes you kinky, so maybe I'm not a very good judge of kinkiness, but I can tell yo9u that I do a lot of things that, when they find out, make other people go, "Whaaaa???" That's enough for me right there. Plus did I mention electroplay? Yeah. That's not for everybody. So there ya go.
Blakely: Has a lover ever asked you to try a new kink and it shocked you to find out they liked it?
Deanndra: Nope. We've always pretty much been on the same page.
Blakely: What's the funniest thing that ever happened to you while you were getting kinky?
Deanndra: Sir did something to me – can't remember what – but I jerked and hit him in the head with some appendage. I think it was my knee, but I can't remember. Anyway, I think that was about the time he decided to start testing things on himself before he used them on me, or to at least stand clear!
Blakely: Do you ever feel shame over your desires?
Deanndra: I used to. But now I know that there are so many more people out there like me that I feel sorry for vanilla folks. How boring!
Blakely: If your lover came to you and said they weren't into your kink anymore, would you give up your kink or your squeeze?
Deanndra: I'm not sure. I think we'd have to have a little summit meeting. I might insist that if the kink was verboten, I'd have to find someone on the side. And I'm not sure what would happen next. But I can't image any kinkster ever going back. Why would anyone do that? LOL
Blakely: Where is the oddest place you have ever masturbated?
Deanndra: Horse trailer. And that's all I'm saying about that.
Blakely: Do you fantasize about people you know or create your own characters?
Deanndra: Usually the characters from my books. Have you met some of them? My fantasies are where they came from originally anyway!
Blakely: What kind of porn do you watch or read?
Deanndra: I like double- and triple-penetrations, gangbangs, any configurations of menage. But what's with this business of the guys giving the girls facials? That does nothing for me. Nothing.
Blakely: What sites do you use to find the porn you want?
Deanndra: I just do a Google search and then follow the trail of bread crumbs. I think my favorites are Pornhub and Kink.com though.
Blakely: Have you ever tried something out of your comfort zone and regretted it?
Deanndra: Nope.
Blakely: Or did your comfort zone shift to include the new experience?
Deanndra: I'm always up for something new and different. It would be hard to take me outside of my comfort zone unless you went toward the watersports thing. Then no amount of shifting would take me there.
Blakely: Can a kiss be kinky? If so, how?
Deanndra: Sure. Nothing like having someone whisper or moan something totally depraved into your mouth and then having them replace the words instantly with their tongue.
Blakely: Do you write any kinky erotica? If so, please share your links.
Deanndra: Oh hell yes! Most of my work is erotic romance, but the Harper's Cove series is pure nasty erotica with a big dose of humor thrown in. Just go to my author page on AMAZON, and you'll find it all, except for the Indulgence Anthology. My newest novel, My Last Dom, will be in there and it releases June 29.
Blakely: Are you into bondage? If so, what do you like to do?
Deanndra: Leather or nylon cuffs and the spreader bar. Rope (Sir wants to learn shibari). I got a nasty cut from a pair of handcuffs, though, so I'm not really into those. Blindfold. Ball gags. And I like self-positioning restraint units that put a body into certain positions and won't let go. Wouldn't mind some bondage furniture, although space is a real constraint. But we'll be ordering a tantra chair in the near future, and we've got a new bed coming that'll have restraint points. Good times!
Blakely: What's your top fantasy that you want to experience?
Deanndra: A foursome (M/M/M/F), but Sir doesn't share, so I guess that's out. Did I mention he's not quite as kinky as me? Yeah. Not quite.
Blakely: What items in your refrigerator have you used during sex?
Deanndra: Whipped cream, different kinds of fruit, jellies and jams, margarine, ice cream, yogurt, ice cubes, and I can't think of anything else right off, but I'm sure there's been something else.
Blakely: What happened the first time you did something kinky? Was it fun or embarrassing?
Deanndra: Fun! Even if it's embarrassing, it's fun. But frankly, my first kinky experience was so long ago that I don't even remember what it was.
Blakely: Did something specific happen to make you realize you enjoyed things on the kinky side?
Deanndra: No. Like I said earlier, I realize now that I've been that way my entire life. I was looking for someone to supply it all along.
Blakely: Have you stopped dating someone that wasn't willing to experiment?
Deanndra: No. Sir and I have been together almost 34 years. Prior to that, I was heavily involved in organized religion and was taught that it was bad, so sex wasn't a priority because it was so damn boring.
Blakely: Can people tell you're kinky just by looking at you?
Deanndra: If they know what a collar is, then yes. Someone last weekend at an event made mention of it.
Blakely: Is kinky only kinky the first time?
Deanndra: No, because I think kinky builds on kinky and we just get kinkier all the time! It's like any form of thrill-seeking – we're always looking for the next high.
Blakely: Is kink compatibility as important as emotional compatibility in a long-term relationship?
Deanndra: I think that depends solely on the person. For me, yeah, it probably would be. For some people who enjoy it but treat it as a novelty, probably not. If Sir suddenly decided he wasn't into it anymore, then we'd have a problem.
A huge thank you goes out to Deanndra for sharing her kink with us. Thanks for being open and so honest with us.
If you'd like to be interviewed, please email at blakely.bennett@gmail.com or find me on Facebook.
For those who like kink, make sure to check out my Bound by Your Love Series and other books. ​Buy links: Amazon, B&N, Smashwords, iTunes and many other outlets.