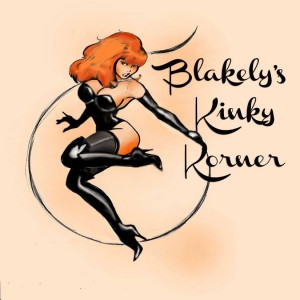 Please give warm hugs and a wet kisses to Kinkster Chainz Payne. She is going to share with us today what makes her kinky and what really turns her on. Hopefully, we will all learn something or at the very least get a few new good ideas.

Blakely: Hi Chainz Payne. Thank you so much for joining us today! We are all looking forward to finding out what makes you kinky.
Chainz: Hi, Thank you for letting me share what I call my wonderland.
Blakely: What's your definition of kinky?
Chainz: Being turned on in a non traditional way, to some maybe past the point of so called normal. I think it's the point where wild, sexual, and weird meet!
Blakely: What makes you kinky?
Chainz: Taking it to the limit, giving head while going down the road, being fingered in a
restaurant or while laying under the blankets int the living room watching a movie and seeing if he can get me off without them noticing or me making noise!
Blakely: Do you consider yourself a TOP, a bottom (Dom or sub) or a switch or something else entirely?
Chainz: I'm a Topper for sure I love to blindfold, tie your hands behind your back. I know what I'm doing to I don't need your help I love the feeling of being in control.
Blakely: Do you like receiving or causing pain? If so, what's your favorite instrument to do so (ie. hand, flogger, crop, paddle, whip, etc.)?
Chainz: I love bitting, specially while I'm having an orgasm. If I can bite you, well I'm going to have that orgasm that is the ultimate satisfaction. Also while being done doggy style, if you pull my hair to the point where it hurts, I like that feeling of being stretched inside as the pain of it is amazing.
Blakely: Do you have a safeword and if so, what is it?
Chainz: If you go too far are passed my limits the only words your going to hear is FUCKING STOP!
Blakely: Why do you think you were attracted to your kink in the first place?
Chainz: I waited till I was married till 24 to have sex. I had read books and been more
knowledgeable on the subject compared to if I would have started young. I understood the
difference between emotional and sexual.
Blakely: Do you think you would ever be able to give up your kink if you fell in love with a
person who wasn't into it?
Chainz: No cause I would fuck the kink into him.
Blakely: Does any of your family know about your kink? Do you think they would be shocked?
Chainz: I was raised by my dad who was a man ho and has always been open and honest and if you know my personality and my open mouth you wouldn't be shocked either.
Blakely: What's on your kinky bucket list?
Chainz: To fuck in the waterfalls in Vegas.
Blakely: Do you ever feel shame over your desires?
Chainz: Never. I'll talk sex all the time to whoever wants to listen.
Blakely: If your lover came to you and said they weren't into your kink anymore, would you give up your kink or your partner?
Chainz: In every good relationship there is compromise so you meet in the middle.
Blakely: Where is the oddest place you have ever masturbated?
Chainz: At an OBGYN clinic.
Blakely: You must have had a long wait. 😉
Blakely: Do you fantasize about people you know or create your own characters?
Chainz: People I know. Specifically people I can't have.
Blakely: Do you write any kinky erotica? If so, please share your links.
Chainz: Just a blog: DirtyBooksAndDirtyBoys
Blakely: What's your top fantasy that you want to experience?
Chainz: Being grabbed, thrown against a wall, and fucked in a uniform.
Blakely: Did something specific happen to make you realize you enjoyed things on the kinky side?
Chainz: Getting turned on while reading.
Blakely: Can people tell you're kinky just by looking at you?
Chainz: IDK, but once I start talking yes.
Blakely: Is kinky only kinky the first time?
Chainz: It's anytime you feel that little devil come out in you.
Thank you so much Chainz Payne for sharing with us today. It's always fun to read about what makes an individual kinky!
If you'd like to be interviewed, please email at blakely.bennett@gmail.com or find me on Facebook.
For those who like kink, make sure to check out my Bound by Your Love Series and other books. ​Buy links: Amazon, B&N, Smashwords, iTunes and many other outlets.