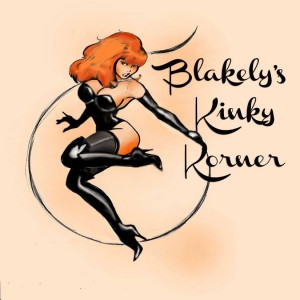 Please give warm welcome to Domidique. I can't wait to see what he has to share with us today. I love being educated about the lifestyles in the kink world.
Blakely: Hi Domidique. Thank you so much for joining us today! We are all looking forward to finding out what makes you kinky.
Domidique: Genetics. 😉 I think it may be that my folks passed down something in the gene pool.
Blakely: What's your definition of kinky?
Domidique: In the beginning, I didn't know I was kinky, but then there are some things you never should say out loud at parties, because it stops all conversations and out of the silence someone says, "That's kinky."
Blakely: What makes you kinky?
Domidique: I like to push (and pull) the limits. I like spanking, rope, hair pulling, lapping up gush, having a woman stand above me and gush and squirt all over my naked body. That is seriously cool. Anal play up to fisting.
Blakely: Do you consider yourself a TOP, a bottom (Dom or sub) or a switch or something else entirely?
Domidique: TOP
Blakely: Do you like receiving or causing pain? If so, what's your favorite instrument to do so (ie. hand, flogger, crop, paddle, whip, etc.)?
Domidique: Hand & Crop (Or I'll take suggestions from my partner.)
Blakely: Do you have a safeword and if so, what is it?
Domidique: More 😉
Blakely: Why do you think you were attracted to your kink in the first place?
Domidique: In the beginning, just seemed natural as the passions let loose.
Blakely: Do you think you would ever be able to give up your kink if you fell in love with a person who wasn't into it?
Domidique: I am in love forever and my partner and I have evolved our passions over the years.
Blakely: What's the funniest thing that ever happened to you while you were getting kinky?
Domidique: During a rope session, I realized that my sub looked more tangled up in a spider web than Shirbari.
Blakely: Where is the oddest place you have ever masturbated?
Domidique: In the ocean while watching a couple onshore in the lights of a distant hotel.
Blakely: Have you ever tried something out of your comfort zone and regretted it?
Domidique: Rough sex that ended bloody.
Blakely: Can a kiss be kinky? If so, how?
Domidique: Kissing the right partner is mind blowing. Rough kissing is an excellent turn on.
Blakely: Are you into bondage? If so, what do you like to do?
Domidique: Tie her up spread eagle belly down and have my way until she gushes.
Blakely: Can people tell you're kinky just by looking at you?
Domidique: Yes. Or at least they suspect.
Blakely: Is kink compatibility as important as emotional compatibility in a long-term relationship?
Domidique: Yes. I really believe that kink involves so much trust that the longer and deeper the relationship the more fun and experimentation you can explore.
A huge thank you goes out to Domidique for taking the time to let us into his world of kink. He sounds like my kind of man! Thank you for being so open and honest with us.
If you'd like to be interviewed, please email at blakely.bennett@gmail.com or find me on Facebook.
For those who like kink, make sure to check out my Bound by Your Love Series and other books. ​Buy links: Amazon, B&N, Smashwords, iTunes and many other outlets.