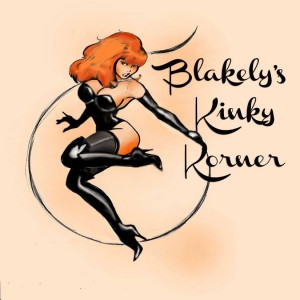 Please give warm hello to Gynger. I can't wait to see what she has to share with us today. I love learning something new.
Blakely: Hi Gynger. Thank you so much for joining us today! We are all looking forward to finding out what makes you kinky.
Gynger: Hopefully I can help you out with that.
Blakely: What's your definition of kinky?
Gynger: Kinky to me is usually anything that "Vanilla" individuals find sexually abnormal.
Blakely: Do you consider yourself a TOP, a bottom (Dom or sub) or a switch or something else entirely?
Gynger: I consider myself a Dominant, but I've also been known to switch roles with my partners, so that they can get a feel for what it's like to dominate someone. I especially enjoy switching if they only identify as being submissive. It's fun to push them and see what they come up with.
Blakely: Do you like receiving or causing pain? If so, what's your favorite instrument to do so (ie. hand, flogger, crop, paddle, whip, etc.)?
Gynger: I don't enjoy giving pain. I feel that pain is only necessary when punishing your submissive/slave for disobedience. I am what I like to call a Sensual Domme. I do like to experiment with many different toys/devices. My favorite has to be the violet wand. There is a thin line between pain and pleasure when incorporating it into playtime.
Blakely: Do you have a safeword and if so, what is it?
Gynger: Not at all, no need for one. It's called commonsense.
Blakely: Do you think you would ever be able to give up your kink if you fell in love with a person who wasn't into it?
Gynger: I wouldn't put myself in that position. I'm not interested in being with a person that wouldn't embrace my proclivities. I can't live my life being untrue to myself.
Blakely: Does any of your family know about your kink? Do you think they would be shocked?
Gynger: My sister knows, only because at one time I was actively a PRO and she stumbled across some things on my computer.
Blakely: Is there any kink you wouldn't try?
Gynger: I'm not a fan of scat play, animals, or permanently scarring anyone.
Blakely: Has a lover ever asked you to try a new kink and it shocked you to find out they liked it?
Gynger: I had a submissive partner that was super straight, I asked him to perform fellatio on another man. I was shocked to find out that he enjoyed it and listened to directions very well with little to no resistance. Now that I think about it, I'm not sure that I was so shocked.
Blakely: Do you ever feel shame over your desires?
Gynger: Not at all.
Blakely: If your lover came to you and said they weren't into your kink anymore, would you give up your kink or your partner?
Gynger: I don't think that this applies to me. I would never be in a relationship with someone that would ask me to change. I lay all my cards on the table.
Blakely: Where is the oddest place you have ever masturbated?
Gynger: At work in the bathroom.
Blakely: What kind of porn do you watch or read?
Gynger: Interracial (white men/black women) Hardcore Interracial. My porn likes are pretty mainstream. I don't go looking for BDSM porn. It just seems so fake.
Blakely: What sites do you use to find the porn you want?
Gynger: Pornhub and XNXX.
Blakely: Can a kiss be kinky? If so, how?
Gynger: Of course it can be. Especially depending upon where the kiss is placed.
Blakely: Are you into bondage? If so, what do you like to do?
Gynger: I'm interested in bondage, and would really love to explore it more. Personally, I think Shibari is beautiful. For now I'm limited to spreader bars and limb restraints.
Blakely: For those who don't know, Shibari is a Japanese style of bondage or BDSM, which involves tying up the "bottom" using simple yet visually intricate patterns, usually with several pieces of thin rope. In Stuck in Between, in the Bound by Your Love series, Red is into Shibari.
Blakely: What's your top fantasy that you want to experience?
Gynger: My top fantasy is to have a polyamorous household.
Blakely: Have you stopped dating someone that wasn't willing to experiment?
Gynger: No, however I stopped dating someone because I found out that he wanted to do things that I found to be extremely unsanitary. He had fetishes that could cause illness and death.
Blakely: Can people tell you're kinky just by looking at you?
Gynger: Not at all. Or at least I don't think so.
Blakely: Did something specific happen to make you realize you enjoyed things on the kinky side?
Gynger: When I was around 13 I lived in a predominately black neighborhood. Being of mixed ethnicity, I was a bit of an anomaly. All of the little boys wanted me to walk to the store with them, or go to the movies with them. One day a boy named T said that he would do anything if I went to the movies with him. The first thing that popped into my head was to have him wear girls underwear. He obliged. I think that was the catalyst.
Thank you so much Gynger for sharing your kink and your experiences with us.
If you'd like to be interviewed, please email at blakely.bennett@gmail.com or find me on Facebook.
For those who like kink, make sure to check out my Bound by Your Love Series and other books. ​Buy links: Amazon, B&N, Smashwords, iTunes and many other outlets.