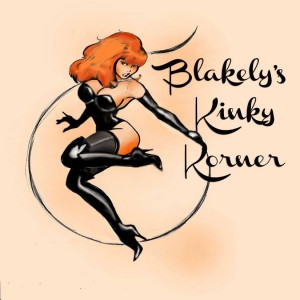 Please give warm hugs and a wet, juicy snogs to Kinkster Miss Chief. She is going to share with us today what makes her kinky and what really turns her on. I'm really excited about this one. 😉
Blakely: Hi Miss Chief. Thank you so much for joining us today! We are all looking forward to finding out what makes you kinky.
Miss Chief: Hi Blakely, thank you for having me. I'll try and keep this clean as possible.. Pffft who am I kidding!! We don't want clean do we??
Blakely: What's your definition of kinky?
Miss Chief: I suppose my definition of kinky would be something that is considered "out of the norm" when it comes to "sexual acts"….definitely my kind of thing!
Blakely: What makes you kinky?
Miss Chief: I'd never considered myself as kinky, everything I did or thought about sexually felt normal and right to me. So I naively thought everyone was the same, till someone told me otherwise…in fact several of my friends, including partners, told me I was 'kinky'.
I like to be stretched out, bound and penetration to be withheld to the point of me begging for their cock. I like anal toys but not dildo's (I prefer real cock for that). Yes to spanking and the use of paddles… (If done right and only if I trust you!). Talking dirty also does it for me, but be careful what you say; I have been known to laugh? (Believe me, I've heard some funny things). I also love to wear Basques, stockings & my slutty shoes, this is where the paddle comes in and the tables turn and I get to paddle some ass!
I almost forgot…I love outdoor sex. In all kinds of places, for example: well-known football club (many times). Fields, woods, balcony or pool on holiday, etc.
Blakely: Do you consider yourself a TOP, a bottom (Dom or sub) or a switch or something else entirely?
Miss Chief: More of a Bottom but can be a Switch with the right person.
Blakely: Do you have a safeword and if so, what is it?
Miss Chief: The last safeword in place was 'Morph'.
Blakely: Why do you think you were attracted to your kink in the first place?
Miss Chief: My first sexual experience was with another girl (I was very young) we dabbled, and found myself highly aroused when stretched out; being touched and stroked.
My second boyfriend (whom I lost my virginity to), I think we tried and tested everything we could think of?….I remember demanding to be tied up and blind folded, I'd been fantasising about it a lot, so I was itching to try it. Turns out I loved being tied up, but not so keen on the blindfolding. Still, it was hot and I never looked back!
Blakely: Do you think you would ever be able to give up your kink if you fell in love with a person who wasn't into it?
Miss Chief: Well If I'm honest, NO would be the answer to this one. My kinks would have been revealed before the 'L' word entered the relationship. If the person in question didn't like my kinky side….they can sling their hook!
Blakely: Does any of your family know about your kink? Do you think they would be shocked?
Miss Chief: None of family know? They kind of live in the Dark Age and are terribly old fashioned. My closest relative would be disgusted, I'm not ashamed of what I like, but I would be deeply hurt if this relative thought differently of me, he just wouldn't understand.
Blakely: Is there any kink you wouldn't try?
Miss Chief: I'll try anything once but I will not do Humiliation.
Blakely: What do you think makes what you do kinky?
Miss Chief: I like to push my own boundaries, see how far I'm willing to go. Although this has gotten me into trouble in the past, I just put it down to experience and try something else.
Blakely: Has a lover ever asked you to try a new kink and it shocked you to find out they liked it?
Miss Chief: Surprised, yes! But not shocked.
Blakely: What's the funniest thing that ever happened to you while you were getting kinky?
Miss Chief: Whilst getting up to some outdoor shenanigans, I knocked myself out under a bridge, whilst giving someone a blowjob! I jumped up when I heard footsteps and hit my on the iron bridge…I was out cold! It was most embarrassing explaining my antics to the doctor! It turns out the footsteps I heard were my boyfriend at that time (not for long, mind) *blush
Blakely: Do you ever feel shame over your desires?
Miss Chief: Not at all. I'm a very open minded person, I don't know where I get it from, as my family is so old fashion? My desires make me horny and curious!
Blakely: Where is the oddest place you have ever masturbated?
Miss Chief: A well-known football club, while a certain person watched. (I had some friction burns that night…bloody concrete floor!)
Blakely: Do you fantasize about people you know or create your own characters?
Miss Chief: People I know….but I tweak them to what I want & like!
Blakely: What kind of porn do you watch or read?
Miss Chief: I don't watch porn often, but when I do, I watch MMF. FF. BI. Group. Anal and Tribbing (lesbian)
Blakely: Tribbing: Commonly known by its scissoring position, is a form of non-penetrative sex in which a woman rubs her vulva against her partner's body for sexual stimulation, especially for ample stimulation of the clitoris.
Blakely: What sites do you use to find the porn you want?
Miss Chief: XHamster.
Blakely: Have you ever tried something out of your comfort zone and regretted it?
Miss Chief: YES! But it wasn't pleasant and quite frankly dangerous, so I'll say no more!
Blakely: Can a kiss be kinky? If so, how?
Miss Chief: Absofookinlutely! Sucking on the tongue (hard!) and biting the tongue or lips. So HOT!
Blakely: Do you write any kinky erotica?
Miss Chief: I dabble, for pleasure.
Blakely: Are you into bondage? If so, what do you like to do?
Miss Chief: Being bound and wearing rubber/fetish wear and spanking/paddling is light bondage, right? Then YES is the answer to that one.
Blakely: What's your top fantasy that you want to experience?
Miss Chief: I want to be restrained to a bed, fully stretched out. (TIP: under bed restraints are fantastic for this…they're £9.99 upwards) …where was I, ah yes, retrained and stretched out, whilst several hot hairy men touch and stroke me in the most seductive way, licking and blowing, taking their sweet time on me, teasing me in the most tantalising ways. Denying me of what I need most…full penetration!! mmmm *sigh
Blakely: What happened the first time you did something kinky? Was it fun or embarrassing?
Miss Chief: The first time was strange in the best possible way, but most definitely, fun & exciting!
Blakely: Have you stopped dating someone that wasn't willing to experiment?
Miss Chief: Yes…Just once, and what a prude he was!
Blakely: Can people tell you're kinky just by looking at you?
Miss Chief: NO. Quite the opposite! Men find me rather shy and I really do go shy? This usually happens with someone I click with (maybe that's the natural sub in me…who knows?)
Blakely: Is kinky only kinky the first time?
Miss Chief: Absolutely not! You just become more experienced, which leads to more fun and orgasms!
Blakely: Is kink compatibility as important as emotional compatibility in a long-term relationship?
Miss Chief: For me, YES! It's a big part of who I am. I have such a need for it, I can't explain …if that makes any sense?
Thank you so much Miss Chief for openly and honestly sharing your kink with us. It was very fun learning more about you!
If you'd like to be interviewed, please email at blakely.bennett@gmail.com or find me on Facebook.
For those who like kink, make sure to check out my Bound by Your Love Series and other books. ​Buy links: Amazon, B&N, Smashwords, iTunes and many other outlets.