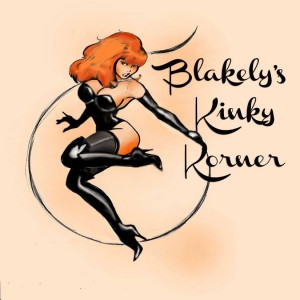 Please welcome Kinkster Nicholas Tanek. He's going to share with us today what makes him kinky and what really makes him hard and gets him excited. This is a long and very interesting interview so hold on to your hats!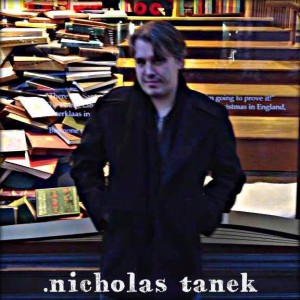 Blakely: Hi Nicholas Tanek. Thank you so much for joining us today! We are all looking forward to finding out what makes you kinky.
Nicholas: Hello, Blakely. It is a pleasure to speak with you. I commend you on the fact that you are promoting awareness of the BDSM and fetish communities.
Blakely: What's your definition of kinky?
Nicholas: To me, it is something that is off from the norm in terms of sexuality. For the average person, they are ashamed and have suppressed these urges. I embrace it. Life is short. So, examples could range from vanilla to hardcore. Vanilla kink would be the simple stuff like handcuffs, light rope, restraints, blindfolds, dildos, butt plugs, etc. Hardcore? Hmm… consensual rape play, male chastity devices, forced feminization, urinating on people, extreme bondage, breath play, humiliation, etc.
Blakely: What makes you kinky?
Nicholas: I was always a very sexual person, but what makes me kinky is my willingness to experiment and explore. It's not only about being open-minded with others but also being honest with yourself. When I was young, I felt like a freak because of the things that turned me on. Then, I realized that it's natural. I think the things that make me kinky are my curiosity and my open-mindedness. There are a lot of things I am not into, but to each his own. I have been a part of BDSM fetish culture for a while now. On Fetlife.com, a common phrase is, "Your kink is not my kink." As long as it is consensual, keep getting kinky!
Blakely: Do you consider yourself a TOP, a bottom (Dom or sub) or a switch or something else entirely?
Nicholas: On Fetlife.com, I think I am labeled as a "kinkster." I am a true switch. I do have a somewhat dominant personality in everyday life. For a majority of my sex life, I noticed many of the women I was with wanted me to be sexually dominant. That's cool. I like it. I would play that Dom role which would include the bondage and orgasm control of women. The older I got, I started to explore my submissive side and Femdom. I wrote all about this in my book, The Coolest Way to Kill Yourself. Lynn was generally a submissive woman and I was generally a dominant man. In the bedroom, we switched that up. She became my Goddess. We explored everything dealing with Femdom. That included forced crossdressing, male chastity, and even pegging. Still, we could always switch back. After each sexual episode, we went back to normal. The sexual honesty strengthened our bond. The Coolest Way to Kill Yourself was all about letting myself go and giving into that love and connection.
Blakely: Do you like receiving or causing pain? If so, what's your favorite instrument to do so (i.e. hand, flogger, crop, paddle, whip, etc.)?
Nicholas: I do, to a degree. When it comes to receiving, I am not into extreme pain. I can be masochistic, but I would not consider myself a masochist. Sometimes, the humiliation is more of a turn on than the pain. I only enjoy giving pain if I know the woman gets turned on by it and it is consensual. I can be sadistic, but I am not a sadist. Riding crops are the sexiest to me out of those instruments. The paddles can sometimes just look silly. Riding crops have this image of upper class authority. I like that. Still, I find it kind of humorous, but I do like it.
Blakely: Do you have a safe word and if so, what is it?
Nicholas: "Moonlight" is to completely stop. "Moonbeam" is to slow down.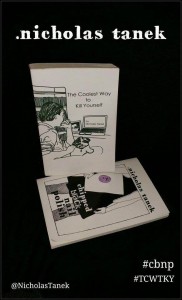 Blakely: Why do you think you were attracted to your kink in the first place?
Nicholas: When I was young, I used to get the JC Penney catalog to pick out toys for Christmas. I always looked at the women in the lingerie section first. I was mesmerized by women in thigh highs and garter belts. Things snowballed from there. [When I say snowballed, I mean the kinky thoughts grew and expanded. I do NOT mean getting a blow job and having a woman spit it back into my mouth.] Also, I was always fascinated with restraints and straight jackets when I saw movies about mental institutions. Once, I even made a homemade straight jacket, and I felt like a weirdo afterwards. I wrote about my awkward teenage experiences in Chipped Black Nail Polish, which is a prequel to The Coolest Way to Kill Yourself.
Blakely: Do you think you would ever be able to give up your kink if you fell in love with a person who wasn't into it?
Nicholas: At this point in my life, I would not fall in love with a woman who would not accept me or want to explore my kink and fetishes. In my books, I wrote about how I fell in love with a woman and ended up marrying her. She knew I was kinky, but all she wanted was a so-called "normal" life. I wanted to explore kink with her. She just wanted to be married. Since I have a fetish for women in lingerie, I would try to get my ex-wife to wear lingerie all the time. All I wanted for my birthday or for Christmas was for her to wear a sexy French maid outfit. Instead, I got a digital camera or a television. That marriage fell apart. Now, I'm glad it did. I reconnected with Lynn and had the most beautiful relationship. My failed marriage taught me to be with people who accept me for me and who are willing to explore.
Blakely: Does any of your family know about your kink? Do you think they would be shocked?
Nicholas: Well, I did publish a book where I explore kinky sex. My parents have not read it. Or, at least they say they did not. They are scared to read it. It's not just kink. It's also the drugs and criminal activity too. Either way, my family knows that I am kinky and they know that I am not ashamed of it. The details? I do not tell them.
Blakely: What do you think makes what you do kinky?
Nicholas: The willingness to be vulnerable and the power exchange. Most of these male authors write about being sexually dominant alpha males. It's so obvious that they are doing it just to sell books and ride on that FSOG stuff. I am willing to let myself be exposed and write about myself being vulnerable. Once I let myself go and did not care what people thought of me, it was quite enlightening. I started looking at people and life in different and beautiful ways. Of course, I would love it if people like me and think that I am cool, but I would rather have an honest and important connection with someone. I do not mean that in just a sexual way either. Even in everyday life, I like having some kind of real connection with people. Regardless if you are a Dom or sub, anyone who explores the BDSM fetish community shows some of their vulnerability just by participating in it.
Blakely: Has a lover ever asked you to try a new kink and it shocked you to find out they liked it?
Nicholas: Lynn started to get into Femdom. For most of her life, she did not like lingerie or female dominance. She was a pretty submissive woman in daily life. One day, she tied me to the couch legs with hospital restraints, put silk panties on me, and made me lick her pussy. I really love licking pussy. A month later, she locked my cock up in a male chastity device and had me wear a French Maid outfit around the house while I cooked her dinner and waited on her. So, yes… that was a surprise.
Blakely: Do you ever feel shame over your desires?
Nicholas: Not anymore! That is an important message in The Coolest Way to Kill Yourself. Life is too short. So many people only explore BDSM and their fetishes online and alone. I will use crossdressers as an example. Crossdressers sometimes feel so much shame that they throw away all of their clothes. Some people ONLY live online. I used to feel shame about all kinky behavior. Sometimes, that shame could even be a turn on. Shame is a major multi-layered aspect in the BDSM community. My book has a main theme about embracing sexuality without caring what people think. Whatever it is that puts you outside of the "norm," whether it is kink, or sexual orientation, I have a huge amount of respect for people who are proud to be who they are even though there are many judgmental people who may threaten them. Kinky or not, it takes courage to embrace your sexuality. That's one reason I wrote my book. That is why we need real kinky people promoting awareness. Check out the Risk! Podcast with Kevin Allison. It's not always about kink, but it is about the beauty and art of telling true stories that people would normally not tell. Even though it is rarely about kink, check The Chris Gethard Show on Fusion. It is a beautiful, weird, and funny show that embraces and welcomes eccentric people. Also, legitimate films like Shortbus, Maitresse, Venus In Fur, and Nymphomaniac Vol. I & II also help make more people aware of kink and sexuality. Please find real kinky books. I'm not naming any names, but there are some garbage romance novels out there that are just exploiting BDSM and fetish culture and do not represent the culture in the right way. Now, the world is filled with books, films, podcasts, clubs, websites and other things that can educate people about kink. It was not always like that. We're very lucky to have access to such things. The resources are out there. In other words, get over your shame and embrace your kinky mind. It's the coolest way.
Blakely: I have to comment on the "real kinky books" and the "right way". I get a real bug up my ass when people try to say there is only one way to do BDSM right. That's a load of shit that really irritates me. That's like saying there is only one right way to have a gay relationship or only one right way to have a heterosexual relationship. There are many ways to do a BDSM relationship and I can't wait for the community to stop promoting it as if there is only one and people who don't follow that script in their lives or writing are wrong. (Stepping down off my soap box.)
Nicholas: I am NOT saying there is a right way or a wrong way. I am not saying that at all. Unfortunately, there are also many authors who are blatantly exploiting BDSM culture. There are "real" books out there. What I mean by real is that they are genuine. Unfortunately, there are many authors out there that are using BDSM and fetish culture ONLY to make money and they have no… heart. That's what I meant.
Blakely: If your lover came to you and said they weren't into your kink anymore, would you give up your kink or your partner?
Nicholas: This is kind of what happened to me with my ex-wife. At first, she seemed like she was into the things that I was, but she was not genuine. She was not honest with me, and that was a reason why our relationship did not work out. There is a difference between trying something with your partner and finding out that you do not like it, and faking it. If there was something that my partner really wanted but I was not into, or vice versa, but we loved each other and wanted to be together, I would consider an open relationship. Personally, I have been in open relationships. With that being said, that philosophy does not work with many people. So, to answer your question, I am not the dull, tortuously married, corporate, bland businessman anymore. That guy is dead. So, I would not be with someone who did not respect and understand my interests in the BDSM and fetish community.
Blakely: Where is the oddest place you have ever masturbated?
Nicholas: While experimenting with Femdom, Lynn would constantly send porn to me over the phone. When I was at work, sometimes she would order me to masturbate. She never wanted me to get in trouble, so she would order me to do it in bathroom stalls or in one of the empty corporate offices. Sometimes, she wanted proof so I had to film it and send it to her.
Blakely: Do you fantasize about people you know or create your own characters?
Nicholas: Of course! I have an entire clip collection in my mind. The imagination is a powerful tool. Usually when I fantasize, I do not fantasize about actual real people. They are just women from my imagination. I am sure they are made up of characteristics of people I know though. A lot of time images and films from porn pop in my mind too. Whenever I had phone sex, I imagined the person I was having phone sex with.
Blakely: What kind of porn do you watch or read?
Nicholas: I am a switch, but I do like the Femdom and dominatrix videos. A very funny comedian named Marc Maron talks about "porn brain." It's when you just look at porn and you never know where you will end up. It can start by two women and one guy having a threesome in a bedroom. A couple of clicks later, a guy is wearing thigh high stockings, has his cock locked in chastity, and they are sticking things inside him. Then there are always those "OH NO!" moments. You never know when you are going to see something you truly do not want to see. One accidental click and you could end up on The Human Toilet porn page. Honestly, I like porn, but the days of long, well-produced films seem to be dying. Most of it is just amateur clips. In a way, that is the best. I like seeing  real Femdom couple. Sometimes, it's awkward, but it's real. So many people are doing it these days.
Blakely: What sites do you use to find the porn you want?
Nicholas: Tumblr is addictive. Fetlife.com has a beautiful collection of all kinds of BDSM and fetish material.
Blakely: Name some of your favorite BDSM inspired novels.
Nicholas: Venus In Furs and The Story of O
Blakely: Do you write any kinky erotica? If so, please share your links.
Nicholas: The Coolest Way to Kill Yourself is not "kinky erotica," but it is about embracing your kinky, erotic side. The book is filled with kinky sex, hard drugs, and an endless amount of music references. Right now, I am working on a new book that is focusing on my experiences with the New York / New Jersey BDSM fetish community. The working title is The Good Kind of Pervert. It is filled with all kinds of BDSM and fetishes, but it is not masturbation material. It's more about dealing with grief, loneliness, and embracing and expressing the kinky person inside you.
Blakely: Have you ever tried something out of your comfort zone and regretted it?
Nicholas: One woman wanted me to do a rape play role play scene with her. She wanted me to slap her and choke her. I am against abuse of women and I am against rape. This was role play and it was consensual. The whole thing was planned by her. It's weird because she was the one who told me what room to come out of and what to do. She was so bossy about it. Then, I had to improvise. It was consensual, so I did not regret it. The reason it was out of my comfort zone is because it was the first time I ever did something hardcore like that and she had to talk me into it. I know women who have been raped and I felt horrible for playing this extreme role play game. I've been dominant in the past, but not to that extreme. I had to get into this head space. That kind of play can take your mind to dark places. Still, everything was consensual and we laughed about it later. Afterwards, we had a snack and she told me, "Good job."
Blakely: Are you into bondage? If so, what do you like to do?
Nicholas: Sure! I'm not into leather or anything like that. You won't see me in one of those masks with the zipper over the mouth. Still, I do own ropes, hospital restraints, handcuffs, blindfolds, and other kinds of restraints.
Blakely: What happened the first time you did something kinky? Was it fun or embarrassing?
Nicholas: It was life-changing. I write about it in my book Chipped Black Nail Polish. I was a teenager and the very first love in my life tied me to her bed. I loved every minute of it.
Blakely: Did something specific happen to make you realize you enjoyed things on the kinky side?
Nicholas: Besides what happened in Chipped Black Nail Polish, a lot of it was film. I always gravitated towards kinky things in films. Growing up, regular television did not show much kink and the internet did not happen yet. Even magazines like Playboy and Penthouse were not that kinky. So, films like Maitresse (1976) blew my mind. I remember a dominatrix scene in the film Sid & Nancy that made me realize how much I did love kink.
Blakely: Can people tell you're kinky just by looking at you?
Nicholas: Well, I don't walk around leashed and collared. I think if anyone really looks at me, they could tell I am a little left from center. Still, I can get away with being a normal suit and tie guy. But that's the beauty of it. You can see a so-called "normal" person every day. Maybe it is your neighbor. Maybe it is the person you buy your morning coffee from. They could be going home and doing role playing exercises where one of them is a sexy nurse or a prostitute. Maybe, they go home and play The Bunny Game. You never know who is kinky until you really get to know them in a kinky way.
Blakely: Is kink compatibility as important as emotional compatibility in a long-term relationship?
Nicholas: YES! Lynn and I were compatible because we both understood each other and were both willing to try new things with each other. Communication is the key. Two people exploring kink should communicate. They talk about what they like and what they do not like. They should discuss limits. They should not be ashamed of discussing fantasies. You know you are with someone special when you do not have to clear your history on your web browser.
Blakely: Final words?
Nicholas: Explore! Be safe. Be smart. Be open-minded. Life is too short to not be yourself. Any fetish that you think is weird or that you are ashamed of can be explored and experienced. Just make it consensual and safe. We are the kinky people. We are out there. We're willing to play and have a good time. Be yourself. Be a good person. Be a good pervert. Have a good time. It's the coolest way.
You can find Nicholas' books below or click on any of the links above.
A huge thank you goes out to Nichoas for taking the time to let us into his world of kink. Thank you for being so open and honest with us.
If you'd like to be interviewed, please email at blakely.bennett@gmail.com or find me on Facebook.
For those who like kink, make sure to check out my Bound by Your Love Series and other books. ​Buy links: Amazon, B&N, Smashwords, iTunes and many other outlets.