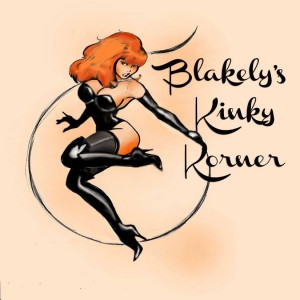 How lucky am I today? I get two kinksters instead of one!! Please welcome the husband and wife duo, Sir Charles and Kitten. I'm thrilled to have them both share what makes them kinky and what it's like in their D/s relationship.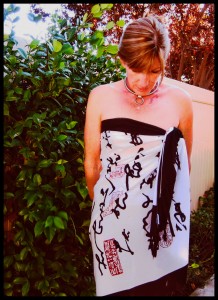 Blakely: Hi, Sir Charles and Kitten. Thank you so much for joining us today! We are all looking forward to finding out what makes you both kinky.
Sir Charles: Hi, Blakely! Happy to be here.
Kitten: Hi, Blakely! To speed the answering and editing along, Sir has insisted that I wear a butt plug while I do this.

Blakely: What's your definition of kinky?
Sir Charles: My mentor told me that if you put a finger in a lady's bum and you both enjoy it, you're kinky.
Kitten: Everything beyond missionary position sex!
Blakely: What makes you kinky?
Sir Charles: Like sexual orientation, I believe that you are born kinky and you are not made kinky.
Kitten: The question is whether you embrace this aspect or not.
Blakely: Do you consider yourself a Top/Dom, a bottom/submissive, or a switch or something else entirely?
Sir Charles: I started as a Top back in college and gradually developed into a full on Dominant.
Kitten: I'm a submissive. I am so OCD that it's hard for me to relax and let go. Having a Dom take control is very freeing.
Blakely: Do you like receiving or causing pain? If so, what's your favorite instrument to do so (ie. hand, flogger, crop, paddle, whip, etc.)?
Sir Charles: Dominants are not Sadists. I only cause pain for the endorphins that the pain releases. Personally, I prefer a leather strap as my favorite instrument because it is warm and forgiving.
Kitten: Ha! As the one receiving this "warm and forgiving" instrument, I can say it's painful. But I need to receive some level of pain in order to let go. I much prefer leather straps and paddles. Instruments that go thud. Lol!
Blakely: Do you have a safeword and if so, what is it?
Kitten: Yes, of course! I usually stick with the standard Yellow to indicate I'm reaching my limit and Red if I need everything to stop. I've tried things like Banana (Sir's reasoning being after Yellow comes a ripe banana. Lol) but I'm not thinking clearly by that point. Sir also often asks me where I am on a scale of 1 – 10 with 10 being my limit. He tries to stay in the 6-8 range as long as possible.
Blakely: Do you think you would ever be able to give up your kink if you fell in love with a person who wasn't into it?
Sir Charles: No, I fell in love with Kitten because she was kinky and it was kink that brought us together.
Kitten: No. I've always been reticent in the bedroom with other lovers, they weren't dominant and weren't much into anything outside of vanilla. I thought I was lacking because sex was just so so for me. Kink opened up a new world and made me feel highly sexual.
Blakely: Does any of your family know about your kink? Do you think they would be shocked?
Sir Charles: My adult daughter suspects. She often asks questions about my bookshelf which I just answer plainly and frankly. She doesn't appear to be shocked.
Kitten: I'm not sure! Lol. Once I started wearing my collar, I think my parents were curious but have never asked. My niece, who was 15 at the time, asked about it but my sister shut her up with, "I'll explain later."
Blakely: Is there any kink you wouldn't try?
Sir Charles: Anything that causes scarring or permanent damage is off limits to me as a Dominant.
Kitten: Oh, lots of things. I'm not a masochist so things that inflict huge amounts of pain, like single tail whips, frat paddles, needles, overuse of canes are off my menu.
Blakely: What's on your kinky bucket list?
Sir Charles: I've never played with electricity (e-stim, violet wands, etc.) and I'm not sure how I feel about it; but that remains on my bucket list.
Kitten: Hmmm, having an audience watch while Sir plays with me is probably at the top of my list, we aren't near any dungeons or clubs.
Blakely: What do you think makes what you do kinky?
Sir Charles: Only that it's out of the ordinary. The human body and spirit are capable of so much more pleasure than people are ordinarily willing to try.
Blakely: What's the funniest thing that ever happened to you while you were getting kinky?
Sir Charles: A few days after Kitten, was collared she began to stress over whether TSA would allow her on her flight wearing her collar. This resulted in a slapstick comedy of trying to remove it and becoming frantic that she wouldn't catch her flight home. I just sat there observing the scene, waiting for her to ask for help.
Kitten: Yeah, I don't remember that as being hilarious. Lol.
Blakely: Do you ever feel shame over your desires?
Sir Charles: I was raised Catholic, so guilt and shame were mainstays of my early education. However, my Jesuit teachers provided a more humanist view, which got me beyond the issue of shame in connection with normal desires.
Kitten: Not at all. I was never brought up to think I should be ashamed of what I like.
Blakely: Where is the oddest place you have ever masturbated?
Kitten: This is SO embarrassing! I remember sitting in my fourth grade classroom holding a ruler between my legs, vertically, slowly gyrating it against my clit. I think the teacher noticed but was too horrified to say anything.
Blakely: Do you fantasize about people you know or create your own characters?
Kitten: I read so much erotic romance, BDSM, erotica that I oftentimes imagine myself in the place of the characters.
Blakely: What kind of porn do you watch or read and what sites do you find it on?
Sir Charles: Men are visual beings, therefore I prefer to watch rather than read. And when I do watch, it's almost always on the Kink.com website. If nothing else, it stimulates my imagination.
Blakely: Name some of your favorite BDSM inspired novels.
Sir Charles: I like Anne Rice's work, especially Escape From Eden and the Sleeping Beauty trilogy. Beyond that, I enjoy the entire Victorian Erotica genre penned by "Anonymous".
Kitten: My intro to kink began with Cherise Sinclair's Club Shadowlands series and Joey Hill's Nature of Desire series. I've since read so many other authors that have become favorites that it's too many to list.
Blakely: Do you write any kinky erotica? If so, please share your links.
Kitten: I dabble in writing but that's it. I do, however, review books quite often.
Blakely: You can check out her review of Blue Persuasion.
Blakely: Have you ever tried something out of your comfort zone and regretted it? Or did your comfort zone shift to include the new experience?
Sir Charles: My comfort zone is pretty expansive so I don't think I've reached its boundaries yet. However, I believe that everyone needs to have their boundaries tested by new experiences, which often will then become part of their daily routine.
Kitten: Sir pushes my comfort zone all the time and it's scary. But I trust him to respect the things that are hard limits for me and only push the soft limits. It's all about trust and honesty. If you have been honest about your limits and trust your partner, then even things you might never want to do again shouldn't be something to regret.
Blakely: Can a kiss be kinky? If so, how?
Sir Charles: Depends entirely on what your kissing. Lol
Kitten: Or where said kissing is taking place.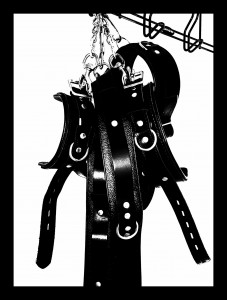 Blakely: Are you into bondage? If so, what do you like to do?
Sir Charles: Yes, but not necessarily rope. I prefer leather straps, handcuffs, and other things that can be manipulated quickly to gain a safe release if problems occur. Being restrained enhances the sense of vulnerability in the submissive, but it also increases the risk of injury.
Kitten: Oh yeah!!! Restraints actually calm me down and start the process of sinking into sub-space for me. I like rope but Sir doesn't. We use leather cuffs on my wrists, ankles, and thighs. Our bed is a king size four poster and outfitted with under the bed restraints, attached wrist cuffs and various items that can be attached to the basic set up including a Hitachi Magic Wand!
Blakely: Did something specific happen to make you realize you enjoyed things on the kinky side?
Kitten: Not in real life, but when I started reading BDSM something just clicked and I knew I had to find this for myself.
Blakely: Can people tell you're kinky just by looking at you?
Sir Charles: People can tell I'm dominant by the way I comport myself and my attitude but I don't think there's any indication that attitude extends to sexual matters.
Kitten: I wear a quite significant looking collar, so anyone in the lifestyle would know. I've walked past people on the street who have actually said, "Nice collar".
Blakely: Is kinky only kinky the first time?
Sir Charles: I think anything can get stale so imagination and variation are necessary to keep things exciting for everyone involved.
Kitten: What he said. Lol.
Blakely: Is kink compatibility as important as emotional compatibility in a long-term relationship?
Sir Charles: Kink compatibility IS emotional compatibility. You can't separate your kink from your emotions without coming to grips with both in order to enjoy a long-term relationship.
Kitten: I agree. If Sir was a Sadist who needed to inflict serious pain there would be big problems for us. However, in that case we wouldn't have gotten into a relationship. People change as relationships progress so I think it is as important to be on the same page emotionally and as it is with the kink.
Blakely: This definitely was the best response to this question I have received so far. I think this applies to all kinds of sexuality within a relationship. For me that are equally important and intertwined as Sir stated.
I feel incredibly honored to have had both Sir Charles and Kitten on Blakely's Kinky Korner this week. Thank you so much for taking us into your world and sharing your kink.
If you'd like to be interviewed, please email at blakely.bennett@gmail.com or find me on Facebook.
For those who like kink, make sure to check out my Bound by Your Love Series and other books. ​Buy links: Amazon, B&N, Smashwords, iTunes and many other outlets.