Please give warm welcome to Stella. I can't wait to see what she has to share with us today. I love being educated about the lifestyles in the kink world.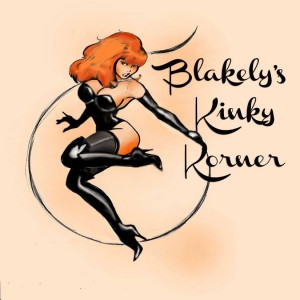 Blakely: Hi Stella. Thank you so much for joining us today! We are all looking forward to finding out what makes you kinky.
Stella: Thank you for the opportunity.
Blakely: What's your definition of kinky?
Stella: I define 'kinky' as that which gives us pleasure that is outside the perceived 'norm' of which is considered acceptable.
Blakely: Do you consider yourself a TOP, a bottom (Dom or sub) or a switch or something else entirely?
Stella: I am a submissive. I enjoy pleasing my partners and that is where I derive my pleasure.
Blakely: Do you like receiving or causing pain? If so, what's your favorite instrument to do so (ie. hand, flogger, crop, paddle, whip, etc.)?
Stella: I am a bit of a masochist, I enjoy pain. I've played with all the toys you mention and a few you haven't. I have my own paddle and crop amongst my private collection.
Blakely: Do you have a safeword and if so, what is it?
Stella: Of course I have a safe word, it would be remiss of me not to. My safe word is 'Puppet' though I will also use 'Mercy' which is more of: I don't want you to stop but I need you to slow down.
Blakely: Why do you think you were attracted to your kink in the first place?
Stella: If I may be candid, I was raped as a teen so I've always associated sex with pain and violence. I've actually found BDSM to be quite therapeutic.
Blakely: Do you think you would ever be able to give up your kink if you fell in love with a person who wasn't into it?
Stella: Love is about compromise so to answer that I would say yes, however, I would hope he'd be willing to endulge me in some of my more mild kinks.
Blakely: Does any of your family know about your kink? Do you think they would be shocked?
Stella: I have a few family members that know although I'm not sure they fully understand. The others would just be judgmental.
Blakely: Is there any kink you wouldn't try?
Stella: Kink runs the gamut so yes, there are some hard core kinks that I won't try: scat, needle play, knife play.
Blakely: What's on your kinky bucket list?
Stella: I would like to do a five guy gang bang. Just have to find the right five guys.
Blakely: What do you think makes what you do kinky?
Stella: Just as everyone has their own perception of what is romantic, what is kinky to you might be vanilla to me. Am I kinky? To some yes, to others no. Myself, I'm just me, this is part of who I am.
Blakely: Has a lover ever asked you to try a new kink and it shocked you to find out they liked it?
Stella: Absolutely. Rimming. Although that's incredibly intimate, and also something that is not for everyone.
Blakely: Rimming, for those who don't know, means: The act of using one's tongue on the anal rim of another person in order to gain and/or give sexual pleasure.
Blakely: What's the funniest thing that ever happened to you while you were getting kinky?
Stella: I love that moment when you're in the moment, fast and furious… And it falls out. Life is not a porno, it happens. I feel moments like those ground us.
Blakely: Do you ever feel shame over your desires?
Stella: No I have not, and why would I? I'm a Libertine, do what makes you happy as long as no one gets hurt.
Blakely: If your lover came to you and said they weren't into your kink anymore, would you give up your kink or your partner?
Stella: That's a difficult question to answer. I guess it would depend on the lover and on what I'm being asked to give up. Keep in mind, I'm poly so there's always another lover who would be willing to indulge my desires.
Blakely: How many lovers do you usually have at a time? Do you love them all or is it more like a FWB scenario?
Stella: Again, that's a difficult question to answer. I have, and had, men in my life that were lovers. There is a great deal of love and affection there. I also have had the D/s relationships were the paradigm is just strictly play in that capacity. There has to be something there, an attraction, an affection… a spark. Currently I would say three.
Blakely: Where is the oddest place you have ever masturbated?
Stella: That would be in my car, pulled over in a parking lot at the command of a Dom who wanted to watch me.
Blakely: Do you fantasize about people you know or create your own characters?
Stella: I fantasize about my lovers, past and present.
Blakely: Have you ever tried something out of your comfort zone and regretted it?
Stella: Nothing comes to mind. I try not have regrets.
Blakely: Or did your comfort zone shift to include the new experience?
Stella: In the lifestyle it's always about pushing your limits and new experiences so certainly I've added to my repertoire.
Blakely: Can a kiss be kinky? If so, how?
Stella: Well, that really depends on where you're being kissed…
Blakely: Are you into bondage? If so, what do you like to do?
Stella: I am into bondage. I'm not sure if this will make sense but it's empowering to give up that control. To be bound, gagged, blindfolded and at the mercy of my lover, knowing he can do whatever he pleases (within the set limits) and there's nothing I can do but take it.
Blakely: That sounds hot to me although I've never been gagged.
Blakely: What's your top fantasy that you want to experience?
Stella: That would be the five guy gang bang, maybe a rape fantasy.
Blakely: What happened the first time you did something kinky? Was it fun or embarrassing?
Stella: For me it was fun from the word go. Then, I started my journey with a lover with experience so the trust was there and when he suggested we try a few things… Trust is important.
Blakely: Did something specific happen to make you realize you enjoyed things on the kinky side?
Stella: My deviant thoughts were always with me, it was really more a matter of when I would try it, not if I would try it.
Blakely: Have you stopped dating someone that wasn't willing to experiment?
Stella: No, I've had vanilla relationships but again, I'm poly. I make that very clear to all the men I involve myself with.
Blakely: Can people tell you're kinky just by looking at you?
Stella: I'm sure some may suspect though I find I'm more often referred to as provocative.
Blakely: Is kink compatibility as important as emotional compatibility in a long-term relationship?
Stella: This is just my opinion; the foundation of any relationship is honesty, trust and communication and when you have that, everything else is a bonus.
Blakely: Final words?
Stella: They say 10% of the population is kinky. However, I'm inclined to believe it's more than that. I feel most people are just too ashamed or embarrassed to admit what turns them on. It's difficult when you're taught all your life that something is 'wrong' and yet the thought of it arouses you.
I also want to say to those who are new to the lifestyle, it is a journey, not a race. I remember myself being eager and wanting to dive in feet first but trust is earned, not given, and there are people in this community that will take advantage of you.
And most importantly, thank you to my gracious host for allowing me to share with you.
Blakely: Thank you so much for sharing your experiences with us. I've enjoyed reading your responses.
If you'd like to be interviewed, please email at blakely.bennett@gmail.com or find me on Facebook.
For those who like kink, make sure to check out my Bound by Your Love Series and other books. ​Buy links: Amazon, B&N, Smashwords, iTunes and many other outlets.