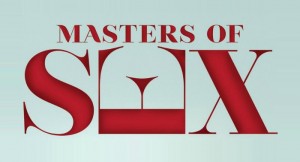 I rarely recommend a TV show because it's very uncommon that there is one that I find so entertaining and intriguing. Masters of Sex on Showtime is based on Thomas Maier's biography Masters of Sex: The Life and Times of William Masters and Virginia Johnson, the Couple Who Taught America How to Love and is one I highly recommend you check out.
The bio-series is set in St Louis, Missouri, in 1956. The show is about sex, desire, orgasm and Masters and Johnson's efforts to test and quantify it. The characters are dynamic, well-acted and interesting. Relationships are diverse, like Masters' relationship with his wife and their struggles to have a baby, the gay provost of the hospital and his unsuspecting wife who has never had an orgasm, Johnson's relationship with her ex-husband and her challenge to juggle work as a single mother. However, the most fascinating evolving relationship is the one between William Masters and Virginia Johnson.
One of the best revelations is how Masters and Johnson address the female orgasm and expose the lack of knowledge of many of the women during that time period. The men also seem ignorant of the ways to bring a woman to orgasm.
William is the associate professor of obstetrics and gynecology at Washington University teaching hospital in St Louis and is depicted as an uptight workaholic who knows little about pleasuring his wife and his own sexuality. Virginia starts as William's secretary and is portrayed as a woman who knows her body well and is very comfortable with her sexuality.
I don't want to give too much away but I will say that there is no shortage of naked bodies in the show, although I just see that as a side bonus. 😉
As a writer of erotica and romance, I'm a huge fan of sex and sexuality, and love that there is a provocative show that is based on the past that might still open the eyes of many to the intricacies of female orgasm with a huge dose of reality. I believe the prevalence of porn and its availability leaves a skewed sense of what real sex is like and how to gain satisfaction for both parties.
It's easy to look back at the 1950s and see how uptight people were about sex … how talking about sex, orgasm and even body parts was still very taboo. I personally think we could still loosen up a bit as a culture. It's not only an important part of life and relationship, but in my opinion, one of the best parts. I believe looking back might help us to look forward as well.
For those who don't have Showtime in the states, let's hope Master of Sex makes it to Netflix soon. I've been told it's running on regular TV in the UK. Lucky Brits! Fingers crossed that the show is picked up for many more seasons. Check it out if you can.
Love to hear what you think of the show or your views on sexuality in our culture.
Thanks for reading.
Warm hugs,
Blakely
Please feel free to friend me on Facebook.
And like the Fractured Fidelities Trilogy Page.
Find me Twitter & Pinterest.