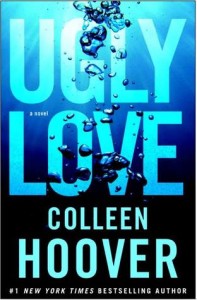 Ugly love by Colleen Hoover is by far my favorite book this year. I've read other books I really enjoyed like Wonder by R.J. Palacio or ones I didn't care for like Gone Girl by Gillian Flynn (I know I'm in the minority with that one). Why did Ugly Love speak to me so clearly? I'll tell you.
I fell in love with Collen Hoover's writing style and for the first time I started to think about writing a story in first person present tense. I even found myself slipping into it in my own writing and had to edited it out. There was something so incredibly tangible about her storytelling that I really FELT both Tate and Miles. I also love the alternating perspectives and how the past and present eventually collided. I also loved the character Cap. You'll see what I mean.
Ugly Love is a heart-wrenching story about Tate, who falls in love with Miles, who has sworn off love. Neither is looking for it at first. They are both too busy for anything more than sex and Tate believes she can handle it. I cried a lot in the book. Especially at the end.
Quite frankly, I haven't been so inspired by an author in a very long time. I'm very excited that she has many more novels for me to delve into and I plan to read them all.
Take time to read Ugly Love, you won't regret it.
Warm hugs,
Blakely
Please feel free to friend me on Facebook.
Find me Twitter & Pinterest.
Amazon