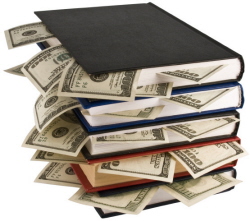 An online friend and I recently had a somewhat heated debate about paying for reviews. He told me about a website, where he had signed up, that has a requirement to provide gift cards in exchange for potential reviews. I said something like, "I'm unwilling to pay money to get reviews." For him, since it wasn't a direct exchange, money for a review, it was completely fine.
We all get to decide, thankfully, where our personal line of ethics lies.
I have been asked by other authors to "post a review" in exchange for a review of my book. I wouldn't even have to read the novel and they would tell me what to write. Of course I declined. Is it wrong that I want to sink or swim on my own merit?
There are people on FB that offer reviews for a fee. I'm completely against this. My debate partner tried to equate giving my book away for free with paying for a review. I completely and vehemently disagreed. Yes, we can place a value on an eBook (although it costs me nothing to provide one) or even a paperback but I don't feel like I'm BUYING a review by providing a reviewer with a free copy.
You can find plenty of websites where you can pay a rather steep fee to get to be reviewed on their site. To me a book is either good or not and there are so many different free sites to get your book noticed that I don't want to pay my hard earned money to support an industry that exploits its writers.
I became rather irritated during the debate and I realized why it happened after the fact. I'm perfectly okay with having a difference of opinion with people and many people who read this post will probably think there is nothing wrong with paying money to get your book promoted any way they can. It's a business, right? However, when someone argues with me as if their position is the only one that makes sense; I want to slap the imagined smirk off their face. Not truly, since I'm the non-violent creative type, but I think I've illustrated my point.
Where do you fall along the divide? Please share your thoughts with us.
Warm hugs to all my readers and a special hug to my debate partner,
Blakely
Please feel free to friend me on Facebook.
Find me Twitter & Pinterest.