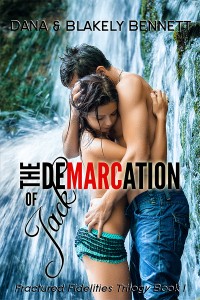 We are on the precipice of self-publishing our first title called The Demarcation of Jack, coming out November 7th. We are so excited to have the bulk of the formatting work done. Wow, what a learning curve on all of that. I found it crazy, frustrating, and daunting that each vendor had its own formatting requirements. On the bright side, I have learned so much that the next time should be a breeze.
We found a very reasonable editor and cover artist so our financial outlay stayed pretty low. Time wise, self-publishing was a much larger investment. However, the ability to track our sales, get the bulk of royalties and be in charge of our product is priceless.
Since my publisher didn't offer much in the way of promotion, that outlay of time has stayed the same. Well sort of. LOL! Social media seems to ramp up on its own and these days it's hard to stay on top of it. Of course, becoming our own publisher requires more time elsewhere so I seem to be forever falling behind on my friendship request, page likes, event invites, etc. (I promise to catch up after the release date!)
We are having an online giveaway party the day of the release and we already have over 45 prizes to give away. You can join the Release Party and Big Giveaway for The Demarcation of Jack and enter the Rafflecopter giveaway.
Again I must remark on all the wonderful relationships I have forge with other authors and readers as well. I have found the community to be so supportive and helpful. I can simply type a question on my Facebook wall or tweet the question and other authors will step up and offer advice. I love that we can be supportive instead of competitive like is found in other industries.
As you may have noticed, I have transferred my blog to my new website. I hope you all like it. I will still be hosting author interviews on Fridays so if you're interested, contact me and let me know.
Warm hugs,
Blakely
Please feel free to friend me on Facebook.
And like the My Body Trilogy Facebook page.
Find me Twitter & Pinterest.