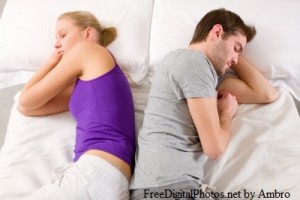 One of my best friends (who is a man and married) and I were just chatting about sex in marriage and I decided you all might want to chime in. I strongly believe as a loving, caring spouse, one should be concerned and invested in meeting their partner's sexual needs. So many of my male friends are sexually dissatisfied at home. Their spouses don't seem to want or need sex anymore, and are unwilling to make any strides to find out why that might be like hormone level testing and the like.
I will admit that sex might be just slightly (or massively) more important to me than the average Jane but I firmly believe that your partner's sexual needs are part of the implied contract in saying "I do." Now I'm not saying you have to do things out of your comfort zone or get on board with something kinky you most definitely don't want to try. However, I do believe regular sex is as important in marriage as is good communication and quality time together.
To me, regular sex is the glue that holds marriages together through the sometimes stormy seas.
Unless both parties have equally lost interest in sex, I think it's the less sexual party that needs to buck up and step up to the plate. You don't feel like having sex yet again? Give your husband a hand job or a blowjob. You don't necessarily have to have sex to help your partner. You could also read some erotica to get your juices flowing. I have a few stories I can suggest. 😉
I'm going to go out on a limb here and say that I think lots of relationships lose their sexual connection because they stop kissing. Kissing stimulates the release of dopamine, endorphins, and phenylethylamine, which are all bonding chemicals.
As my friend so aptly pointed out, some women are just wired to be hornier than others in their natural resting state. I agree with him but I don't think that it gets you off the hook. You married whom you married and their needs should matter to you.
I just looked up infidelity statistics and they vary greatly depending on the source but they are high regardless. What do you think is the top reason? I would venture to guess it's sexual dissatisfaction. Not that I'm condoning affairs at all but it's doesn't take a genius to follow the dots.
So do you agree with me or do you think men should just get next to the fact that some women, if not most, lose their desire for sex as they age? ( I know this happens in the reverse because I have female friends battling this as well.)
As I said to my man friend, I think it's a choice. It's a choice to care about your spouse's needs and it's a choice to do something to get yourself more sexually motivated. Sometimes it might just be asking for what you need to get there: A massage, a romantic dinner, and/or something else.
The happy couples, whom my husband and I personally know, still have great sex lives together. We don't think it's a coincidence.
I sent my blog to my friend to read and he pointed out that my post is very one sided. He said, "What if they aren't in the mood?" Should his needs trump that? "Or when they say 'I'm in my 40s and not as interested in sex any more' are you supposed to ignore that and say 'You said I do now let's have sex?' He makes some really good points to someone like me who already sets sex as a priority. A high one. I then say, it might be time for some give and take on both sides. I will argue that his wife has always known he has a high need for sex so to discount it now seems a bit flawed to me.
Of course there is another solution altogether that I wasn't going to touch but here goes: open the marriage and let the spouse, without guilt, get their needs met elsewhere. (Ducking under the stones thrown in my direction) 😉
What do you say?
Warm hugs,
Blakely
Photo via FreeDigitalPhotos.net by Ambro
Please feel free to friend me on Facebook.
Find me Twitter & Pinterest.
Amazon