Please give a warm welcome to Barry Finlay, author of I Guess We Missed the Boat and Kilimanjaro and Beyond: A Life-Changing Journey.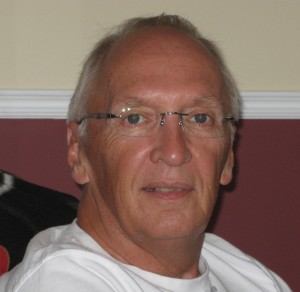 Tell us a bit about yourself and what you're currently working on or promoting.
I spent most of my career working for the Canadian federal government. I have been "retired" for a number of years and living the good life. In 2009 I climbed Mount Kilimanjaro at age 60 with my son and we wrote an award winning book, Kilimanjaro and Beyond, as a result. We had decided to use the climb as a platform to raise money to help some kids in Africa and after meeting them at their crowded classroom, I couldn't stop. With the help of a lot of donors whom I can't thank enough, we have since raised enough to drill a well, build a classroom and help some young women start small businesses in Tanzania. Our fundraising continues.
I still have time to write and just released a travel memoir called I Guess We Missed The Boat. As one reviewer pointed out, it isn't your usual travel memoir as I focus on the amusing things that have happened in our travels. We usually travel with my in-laws so they play a starring role. And yes, fortunately, they are still speaking to me.
What genre is your book? Do you write in other genres as well?
My two published books are both non-fiction. My first book falls into the Inspirational category as it describes the satisfaction of helping oneself and others but there is a travel component to it as well. The second is a humorous travel memoir. Now I'm working on a non-fiction mystery thriller so I guess I don't really have a specific genre.
Who or what inspires you?
I'm inspired by people who have done amazing things under difficult circumstances. There are many people who have tremendous stories to tell. Some don't even realize they are inspiring. We are surrounded by people who have done great things and I draw inspiration from that.
Do you have an agent and/or publisher or are you self-published? If self-published, do you use a professional editor? If traditionally published, who is your publisher?
My first book was self published with Dog Ear Publishing. I'm following the more traditional route with the second as it has been published by General Store Publishing in Renfrew, Ontario, Canada. It's early yet but I can see there is a loss of control with the traditional route that may be offset by the advantage of distribution.
I had a professional editor for both books and I highly recommend it. In both cases, the editors pointed out areas of redundancy or parts that required more or less emphasis. I'm convinced the books are better as a result. In my opinion, it doesn't make sense to pour your heart and soul into your writing without ensuring that the finished product is the best it can be. It's worth the money to have a qualified editor.
Do you use test readers? If so, how many?
My wife has been my test reader on my first two books. I have a friend who is a former deputy police chief and he is going to read the mystery thriller manuscript to make sure I'm not out in left field somewhere.
What advice do you have for writer's just starting out?
I have learned that writing is the easy part. After it is published, getting your book noticed, ahead of the million or so other authors trying to do the same thing, is the tricky and time consuming part. A writer just starting out will have to be prepared to spend hours with social media and spreading the word by every available means. I'm not saying it isn't fun promoting your work but it is something that a new writer needs to be prepared for. My second piece of advice is that if you feel like you have a book in you, write it! It's very satisfying to see your work in print or ebook form.
I guess I have a third suggestion as mentioned previously. Hire an editor!
What does your writing space look like?
I have an office in one of the bedrooms in my home and I use a laptop most of the time. I have a desktop computer as a backup. Both sit on a nice desk. At least, I think my desk is nice. I haven't seen much of the top of it lately…too many pieces of paper scattered about.
What project are you currently working on?
As mentioned above, I'm working on a mystery thriller. This is my first non-fiction book and I'm finding it more difficult than the books where I wrote what I lived. I've written about 185 pages and a number of things are starting to happen at once. I have laid them out in summary form so I don't get confused or write something totally inconsistent. I'm also finding that the basic concept I had in my head is evolving as I write as things are going in different directions than I originally expected them to.
What book are you currently reading?
I'm currently reading Keith Richards' Life. He is probably one of the most unapologetic people you will ever read, by the way. I like a variety of genres. I will read a non-fiction book, followed by 3 or 4 books by James Patterson, Lee Childs, Kathy Reichs, etc. Lately, I have been reading and enjoying books by some of my fellow lesser known local authors as well.
Is there a message in your book(s) that you want readers to grasp?
There is a common theme running through my first two books and that is how fortunate we are to be living where we do. When we are traveling, we need to take note of our surroundings and give back when we can. It could be something as simple as taking extra little toothpaste tubes with us when we go to a resort somewhere or a soccer ball to Africa. Even the smallest gesture by our standards is greatly appreciated by the recipients. In my first book, I also try to get across the point that it is never too late to pursue a dream. Most of us get caught up with careers and kids for a few years but there is still time to do other things later in life.
What do you do when you're not writing?
During the summer I play a lot of golf and I curl during the winter. I learned the value of being in shape when I climbed the mountain. I felt much better and more energetic after training for the climb so I still try to maintain my fitness level. My philanthropic work takes a lot of time and my wife and I travel as much as we can. We also have three grandchildren from ages 18 months to 6 years old that we like to spend time with.
Do you read your reviews and if so, how do you cope with a bad one?
I do read reviews because I'm always surprised at what different people pick up from my books. Sometimes reviewers comment on some aspect of the story that I thought was insignificant. It's interesting to see how different people will find different parts of a book important to them. As for negative reviews, my first book had won three awards and received 10 5-star and 2 4-star reviews when along came a comment that the book was a "disjointed jumble of words." It was just the comment with no supporting justification for why the reader thought that. My first reaction was to fire back by pointing out the book's success. After thinking about it for awhile, I realized that we are all entitled to our opinions. I guess if a book got bad review after bad review, it would be cause for concern and the author should reevaluate their writing. However, if there is one bad review mixed in with a number of good ones, I don't think the author should pay that much attention.
However, it's human nature to remember the bad review forever. We just have to remember that we are putting ourselves out there and social media gives people the opportunity to be critical without supporting their comments. I'm pretty sure most readers will glance at all the reviews but form their own conclusions based on the description of the book and the type of book they are looking for.
I, Blakely, have found the writer's community to be very supportive and welcoming.  Barry, please share three writers that you recommend. 
Len Westwood – Where Were You When I Was a Kid 
Katherine Mercurio Gotthardt – Approaching Felonias Park 
Claudine Gueh Yanting – My Clearest Me 
You can find Barry on his website, Facebook, Twitter, and Goodreads.
                To buy Barry's books, click on the links or covers: