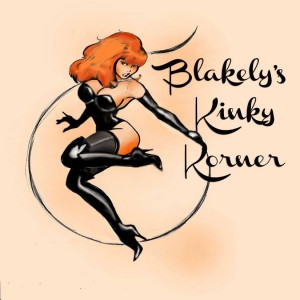 Please give warm hugs and a wet snog to Kinkster Frank Noir. He is going to share with us today what makes him kinky and what really turns him on. Hopefully, we will all learn something or at the very least get a few new good ideas.

Blakely: Hi Frank. Thank you so much for joining us today! We are all looking forward to finding out what makes you kinky.
Frank: Hi Blakely. Thanks for inviting me. I will try to answer as honestly as I possibly can.
Blakely: What's your definition of kinky?
Frank: That's actually a good question. If I define it as anything that deviates from the "normal", I'd need to define what is considered normal – and that changes all the time. I'd probably go with the Freudian concept of "perversion": Any kind of "add-on" that isn't inherently sexual, but serves to enhance the sexual excitement. Another thought: Maybe we're all kinky at heart – in which case the kinky people are those who have the courage to explore their hidden desires.
Blakely: What makes you kinky?
Frank: My main kinks are all BDSM-related: Males dominating females turn me on. And I love fetish-related clothing: Latex, leather, chains and more classic erotic wear like lingerie and high heels.
Blakely: Do you consider yourself a TOP, a bottom (Dom or sub) or a switch or something else entirely?
Frank: I'm definitely on the dominant side. I love submissive females, and most of my sexual fantasies involve some sort of male domination. Would I ever try the submissive role? With the right partner, perhaps.
Blakely: Why do you think you were attracted to your kink in the first place?
Frank: I grew up in Denmark, which was the first country to legalize pornography completely. I remember as a pre-pubescent child seeing images of bound, naked women on magazine covers in shops. At the time, I didn't understand what they were about, but I was still fascinated with the images. And I have no doubt those memories have had an impact on my sexuality.
Blakely: Has a lover ever asked you to try a new kink and it shocked you to find out they liked it?
Frank: On the contrary. I tend to be pleasantly surprised. On a serious note: If a lover were into something I really didn't share, I hope I'd be able to politely say "good for you – but no thanks".
Blakely: Do you ever feel shame over your desires?
Frank: I certainly try not to. And I honestly think no one should. Your sexual desires are a part of who you are as a person – trying to suppress taboo thoughts only make them come back with a vengeance. If your desires are too destructive to act out, you can still enjoy the fantasies.
Blakely: Do you fantasize about people you know or create your own characters?
Frank: About 50-50, I believe. The people I know can be former girlfriends or just attractive women I've met. But I've noticed something interesting: When I have erotic dreams I tend to "invent" women: Not women I ever met, but still with very distinct features and personalities.
Blakely: What kind of porn do you watch or read?
Frank: I watch a lot of porn online – mainly with elements of fetish and male domination. And I prefer high production values: Beautiful performers, good cinematography – and with intense sexual heat. It can sometimes take me a long time to find the kind of stuff I like. But I find that the work of certain directors like Tanya Hyde usually does it for me.
Blakely: What sites do you use to find the porn you want?
Frank: Allow me to make a point here: In this day and age, I think you should definitely pay for your porn. The performers work hard to bring you pleasure, and they deserve to get paid. I can find almost anything I like at aebn.net – and I like the fact that you pay by the minute – not by subscription. Kink.com also does great stuff in the BDSM genre (also on a pay per view basis).
Blakely: Have you ever tried something out of your comfort zone and regretted it?
Frank: No. As a general rule, I only indulge in kinks that seriously turn me – and my partner – on. Exploring my limits doesn't really interest me.
Blakely: Can a kiss be kinky? If so, how?
Frank: I believe the word you're looking for is "bite".
Blakely: Do you write any kinky erotica? If so, please share your links.
Frank: I have been writing for my own pleasure for years and recently decided to share my best work in ebook format. You can find my one novella and three selections of short stories at my OFFICIAL SITE, or my AMAZON Author Page.
Blakely: Very hot website you have there Frank!
Blakely: Are you into bondage? If so, what do you like to do?
Frank: I do enjoy the sight of women tied up in bondage porn and the like. But in practice a simple pair of handcuffs will do. I find the world of rope bondage and shibari techniques absolutely baffling…
Blakely: What items in your refrigerator have you used during sex?
Frank: Ice cubes, mainly. As (unrefrigerated) foodstuffs go, a splash of whiskey and a dab of honey. I leave it to your readers to imagine where.
A huge thank you goes out to Frank for sharing his kink with us. Thanks for being so open and honest with us.
If you'd like to be interviewed, please email at blakely.bennett@gmail.com or find me on Facebook.
For those who like kink, make sure to check out my Bound by Your Love Series and other books. ​Buy links: Amazon, B&N, Smashwords, iTunes and many other outlets.