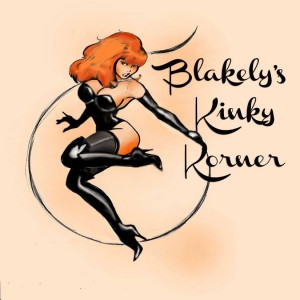 Please give warm hugs and a wet kisses to Kinkster VM Holk. She is going to share with us today what makes her kinky and what really turns her on. Hopefully, we will all learn something or at the very least get a few new good ideas.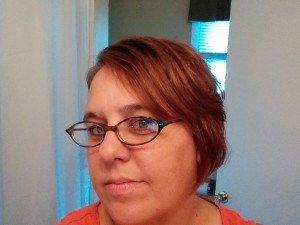 Blakely: Hi VM Holk. Thank you so much for joining us today! We are all looking forward to finding out what makes you kinky.
VM: Hi Blakely. Thank you for having me.
Blakely: What's your definition of kinky?
VM: My definition is I'm sure different than most. I think kinky is experimenting, go outside of yourself, see what you like. Doing that is kinky as hell, even if it means you only do it that one time.
Blakely: What makes you kinky?
VM: I'm willing to try new things. I like to give control over to my husband, it's exciting to not know what is happening. I don't mind not being able to touch him, until he tells me I can. I find that HOT as hell. But I don't let him physically put me in restraints.
Blakely: Do you consider yourself a TOP, a bottom (Dom or sub) or a switch or something else entirely?
VM: Well that's an interesting question. I love being on top and bottom, on my knees, on my side, sitting and so on. I think it's great to keep things interesting or things can get stale. Now to say Dom or Sub? Well if I had to choose, I'm more of a sub. But I wouldn't say I live a BDSM lifestyle by any means.
Blakely: Do you like receiving or causing pain?
VM: I don't like to cause pain at all. But I do like to be spanked every once in awhile.
Blakely: Why do you think you were attracted to your kink in the first place?
VM: Honestly I'm not sure. I've always had a great sex drive, before kids and before life got so hectic, I was told I was a nympho. My husband had a hard time keeping up with me. I was always willing to try new things. So I guess to answer the question, because I was horny. LOL
Blakely: Is there any kink you wouldn't try?
VM: I will NOT let someone tie me up. And I mean my hands and feet, I will completely freak out.
Blakely: What do you think makes what you do kinky?
VM: Because I find it kinky, I get off on it. Everybody likes their own thing. What I like, may not be what you like.
Blakely: Do you fantasize about people you know or create your own characters?
VM: I have done both. But I love to fantasize about the characters I have created for my book series (Sweet Pleasures Series). Wyatt is my man and let me tell you, he is a fabulous lover… wink, wink.
Blakely: Have you ever tried something out of your comfort zone, if so what did you think?
VM: Oh yes and I ended up loving it. You won't know if you like something, unless you try.
Blakely: Care to share what that was?
VM: Well I can't give away all of our secrets, but to give an example. There was one time that my husband made the evening all about me. Now I couldn't touch or move, without his permission. He used some of my toys in play and new positions. I will let you guys use your imagination on the rest. But let me tell you, I wasn't sure if I would like it. WELL I DID!
Blakely: Can a kiss be kinky? If so, how?
VM: I find kissing to be the kinkiest thing. It is my favorite thing to do. For a man to grab me, fist in my hair, pushing me against the wall and kissing me hard…Mmmmm (fanning myself) Truly can't get better than that!
Blakely: What's your top fantasy that you want to experience?
VM: This maybe corny, but I want a man (or my husband, wink wink) to line the bed of his pickup truck with blankets and pillows. Drive us into a country field, with the stars above us and spend the night there kissing!
Blakely: What items in your refrigerator have you used during sex?
VM: I have used chocolate syrup, whip cream, ice cubes, caramel sauce, ice cream and peanut butter.
Blakely: What happened the first time you did something kinky? Was it fun or embarrassing?
VM: It was definitely fun. It was uncomfortable at first, because I wasn't sure how to react. But it has opened the door for me and I'm willing to try more things now.
Blakely: Is kinky only kinky the first time?
VM: Hell No! Kinky is kinky no matter how many times you do it, unless you get bored of it. That's why I think changing things constantly keeps things interesting. But that doesn't mean you can't do things more than once.
Blakely: Is kink compatibility as important as emotional compatibility in a long-term relationship?
VM: No I don't think so, at least for me. I have been with my husband for 20 years and I believe that you must have the emotional compatibility.
A huge thank you goes out to VM for sharing her kink with us. Thanks for being so open and honest with us.
If you'd like to be interviewed, please email at blakely.bennett@gmail.com or find me on Facebook.
For those who like kink, make sure to check out my Bound by Your Love Series and other books. ​Buy links: Amazon, B&N, Smashwords, iTunes and many other outlets.