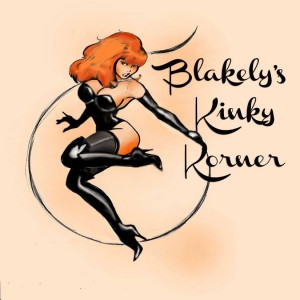 I'm excited to introduce you to Kinkster Vivienne Kaye. She is going to share with us today what makes her kinky and what really turns her on. I learned something new during this interview, maybe you will too. 😉
Blakely: Hi Vivienne Kaye. Thank you so much for joining us today! We are all looking forward to finding out what makes you kinky.
Vivienne: Thank you for inviting me Blakely.
Blakely: What's your definition of kinky?
Vivienne: Well, there's an old joke that says kinky is a feather, and perverted is the whole chicken. I just think it's a shame to let all that chicken go to waste…haha.
Blakely: What makes you kinky?
Vivienne: I don't think I'm really that kinky. What I like is normal for me. Two, or more, consenting adults doing what they like isn't really kinky. It's dirty, because sex is dirty if you do it right, but you're supposed to enjoy yourself.
Blakely: Do you consider yourself a TOP, a bottom (Dom or sub) or a switch or something else entirely?
Vivienne: I'm unique…lol My everyday life pretty much demands I be a top. That said, I like being told what to do in bed. I do know that doesn't make me a sub, though. The fastest way to get me to leave is to think I'm submissive. I don't mind being a Top, but I'm a little bit lazy. Someone else needs to do some of the work sometimes.
Blakely: Do you like receiving or causing pain? If so, what's your favorite instrument to do so (ie. hand, flogger, crop, paddle, whip, etc.)?
Vivienne: That's the great thing about being an adult. The things you used to hate, like naps and spankings, are wonderful now. I love a good spanking. LOVE IT. Hit me with anything like a crop or a whip, and I'll black both your eyes. Hands are great for spankings. Maybe a tawse or a little of a leather strap. Those are my preferred arsenal when administering a good spanking, as well. A little pain is fun. A lot is just abuse, to me anyway. That said, if that's what you like, by all means. Enjoy. Just not with me.
Blakely: Do you have a safeword and if so, what is it?
Vivienne: Safeword? You mean something like 'Stop it, that fucking hurts!' Yeah, I suppose so if that qualifies.
Blakely: Why do you think you were attracted to your kink in the first place?
Vivienne: I started off with a bad attitude about sex. (Long story for another time and forum.) I knew it was supposed to be fun, but it wasn't. Since I read so much, I ran across some ahem, literature, that detailed some less common aspects of sex. Then I discovered porn. It was pretty much full speed ahead after that.
Blakely: Do you think you would ever be able to give up your kink if you fell in love with a person who wasn't into it?
Vivienne: That depends. I was married to someone, for a long time, who had more kinks than a ship full of sailors. I wasn't into many things he was. I tried to allow him space to do what he enjoyed, as long as I didn't have to participate in things I didn't enjoy. That didn't work out. He ended up resenting me, and again, long story. Now I'd try to find someone open minded, but I'd be upfront about my perversions. Save a lot of heartache later.
Blakely: Does any of your family know about your kink? Do you think they would be shocked?
Vivienne: Oh.God. No. My mother thought kinky meant doing it from behind…lol. Some things just lose some of their luster is you discuss them with family. I keep my freakiness just for me, tyvm.
Blakely: Is there any kink you wouldn't try?
Vivienne: Oh several things. My ex liked to cross dress. Nope. He was also into serious role play. Um, no. Infantilism, water sports, heavy BDSM, blood sports, nah. Not so much.
Blakely: Has a lover ever asked you to try a new kink and it shocked you to find out they liked it?
Vivienne: Surprised, yes. Shocked, no. Also, I just don't do certain things. As long as you can communicate that, it's fine.
Blakely: What's the funniest thing that ever happened to you while you were getting kinky?
Vivienne: Probably when I was giving someone a good spanking, and I do mean a good one, and the phone rang. He had to go to work for a meeting. That meant he'd have to sit on what I'd just spent an hour making bright red and sore, for over an hour. I laughed about that the rest of the day.
Blakely: Do you ever feel shame over your desires?
Vivienne: For me, shame is good measure of knowing what you shouldn't be doing. If I feel ashamed, I don't do it.
Blakely: If your lover came to you and said they weren't into your kink anymore, would you give up your kink or your partner?
Vivienne: Depends on the kink. I'd see if there was any possible negotiation, but if it's love, you learn to live with it. If it isn't, you find someone else.
Blakely: What kind of porn do you watch or read?
Vivienne: Oh boy. I love gay male porn. I don't especially enjoy lesbian porn, but two or more women is good. I like porn that details things I don't necessarily want to do myself, but enjoy watching other people do.
Blakely: What sites do you use to find the porn you want?
Vivienne: X-Hamster, X-Tube, Red Tube, Heavy-R, whatever site the search engine points me to when I'm looking for a particular thing.
Blakely: Name some of your favorite BDSM inspired novels.
Vivienne: Anne Rice, the Beauty Series. I need to get her new one. The Marquis, though that's more for the 'Holy shit, who does that?!' factor. I tried to read 50 Shades. Worst.Shit. Ever.
Blakely: Do you write any kinky erotica? If so, please share your links.
Vivienne: Why Blakely, whatever do you mean?…hehehe Yeah. I do.
Blakely: Are you into bondage? If so, what do you like to do?
Vivienne: Bondage…♥ I like being tied up. I also enjoy tying someone up, but not as much.
Blakely: What's your top fantasy that you want to experience?
Vivienne: Pretty pedestrian, but I'd love to do an airtight…hehehe
Blakely: For those who don't know (I had to look it up), airtight means: When a woman has all three of her orifices filled as well as simultaneously giving two handjobs. Involves 5 guys and one girl.
Blakely: What items in your refrigerator have you used during sex?
Vivienne: Anything cylindrical, ginger, ice, frozen grapes, frozen bananas, a few others.
Blakely: Have you stopped dating someone that wasn't willing to experiment?
Vivienne: I don't date much, but yes. That's a deal breaker for me. One position, boring repetitive sex. No.
Blakely: Is kink compatibility as important as emotional compatibility in a long-term relationship?
Vivienne: No, but it helps. Emotional compatibility is essential. Full stop. Kink compatibility is important, but it helps make the long term possible and a lot more fun.
Thank you so much Vivienne for sharing your kink and educating me on a new term. I was familiar with the concept but didn't know it had a name! It was a pleasure getting to know you better.
If you'd like to be interviewed, please email at blakely.bennett@gmail.com or find me on Facebook.
For those who like kink, make sure to check out my Bound by Your Love Series and other books. ​Buy links: Amazon, B&N, Smashwords, iTunes and many other outlets.