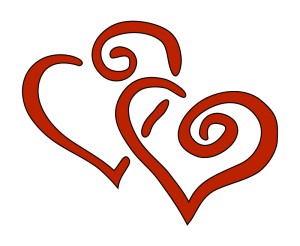 Being human can be odd at times. Somewhere along the line, most of us decided good emotions are preferable and the bad ones should be avoided, shoved down, and/or pushed away. It's quite understandable because pain, jealousy, anger, and hate can be very uncomfortable. The problem with closing off from the "bad" emotions is that we dull our ability to feel the good ones.
My lovely husband says I live with an open heart. He said that to me just the other day when I teared up as I was sharing something that really inspired me. Don't get me wrong in thinking I have an easy time with the harder emotions. I don't. Over the years I've learned ways to shun them like eating too many sweets.  However, more and more, I'm learning how to greet them equally into my life. The older I get, the more I understand the importance of the supposed "good" and the "bad".
For example: I'm still feeling pain and joy from our daughter's departure to her university. I don't want to deaden either emotion because they are real and it's what makes me alive. It also tells me how much I love my daughter and want the best for her.
A wonderful new friend of mine, Deb, said to me that we are much alike in that we both feel deeply. I believe that is true. I also believe that it helps make me a writer who can move people with words because I channel my emotions into my writing. I literally feel what my characters are experiencing and type it onto the page. Plus, emotions can be very informative and the more open I'm willing to be, the more I can trust my intuition and gut reactions.
Historically, the worst feeling for me came with rejection. When I first started as a published author, a bad review could put me into a tailspin. Maybe because I have several more books out and avoid reading the rare bad review, it doesn't bother me so much anymore. Having a deep abiding love with another makes a huge difference too, at least it does for me. It creates a stable foundation in which to take on the world.
Thankfully, I've rarely had to contend with jealousy but having had a few brushes with it makes me understand how it can drive an individual to act in ways he/she might not otherwise behave. I can also understand why some choose to close off from their emotions. Life can be hard and unkind. However, it can also be joyous and moving and beautiful and you don't want to miss out on those experiences too. At least I don't.
Another side benefit for me, living with my heart open, is that I can feel other people's energy. I don't mean like reading auras or anything like that. I can clearly feel whether or not I like a person's energy or if I feel safe near it. Nothing feels better than when my husband's and my energy merge. I think that's why I love snuggling with him so much and other things. 😉
So here's my plug for opening your heart just a wee bit wider. Next time you hug someone you really care about, breath into it and consciously open your heart as you embrace. You won't be sorry.
Warm openhearted hugs,
Blakely
Please feel free to friend me on Facebook.
Find me on Twitter & Pinterest.
Amazon