Hi all!
Sorry I've been AWOL for a lot of the summer. It's been a busy one. Now that fall is here, I'll be posting a lot more.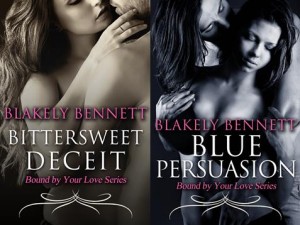 Bittersweet Deceit and Blue Persuasion are currently up for nomination for a book award. I need 20 more votes for each to get to the next round. Please consider voting by clicking on the titles above. You can sign in with your Facebook account.
Please let me know if you'd like to be interviewed for Blakely's Kinky Korner. I have a good one coming up next week.
I hope everyone has had an excellent summer and I look forward to catching up with you. Fall is the time to write and I need to get back to it.
Warmest hugs,
Blakely
Please feel free to friend me on Facebook.
Find me Twitter & Pinterest.
Amazon