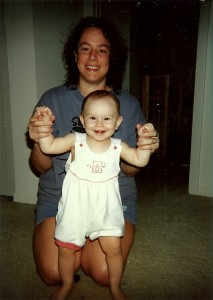 Our daughter has moved away to her university. We got her settled yesterday, with big help from my mother. I've been so excited for her, knowing that it's the perfect school for our girl, I really had no clue how I would feel when she finally left. Mind you, she will probably be back for the summer and I know I will be way more panicked when she goes abroad to Japan for six months next year. However, I'm deeply— I honestly don't know the right word. Sad doesn't seem to quite fit. Maybe more it feels like a loss but I know it's not. She and I are super close and she is only an hour and a half away but my heart hurts today.
I said to my husband, "I didn't think I would feel this way." He said, "I knew you would feel exactly this way. You're a mom." He apparently knows me better than I know myself.
I don't have a co-dependent relationship with my daughter and I don't live vicariously through her, although I love hearing her adventures. I guess what it comes down to is that I'm a mom and my baby is becoming an adult and living on her own, away from us. I want the absolute best for her in every way and now it's solely up to her to make that happen. It's odd to be so excited for her and experiencing loss at the same time. It's definitely a mixed bag of feelings.
I do know we've done the best we could to prepare her for life. I also know part of growing up is the bumps we have to endure along the way and she will have to face hers as we all do. But today I hurt. Today I'm an emotional mess and I just want to climb back into bed and pull the covers over my head.
And the writer part of me knows these intense emotions will somehow, someday, be written into a story and it will move my readers as it is doing to me right now. After all, making our readers feel is our job as authors.
Today I give myself permission to feel all of this without all the judgment that wants to hop in.
I miss you Booboo!!
Warmest hugs to you on this next great adventure,
Mom
Please feel free to friend me on Facebook.
Find me on Twitter & Pinterest.
Amazon