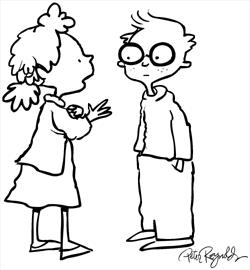 One of the more important factors for me, in writing a novel, is the dialogue between the characters. It must flow in a natural way and my readers should actually feel the different cadence between different people in the story.
Why is this on my mind? Well I'll tell you…
My husband and I were out for our walk the other day and we ran into some female friends. When my girlfriends and I get together and are excited about a topic, we tend to share the conversation. Sometimes our comments even overlap. Maybe it's a girl thing?
If I do this with my husband, it drives him insane. He doesn't like interruptions while he is getting a thought out, and at times, he even finds questions annoying. "Give me a sec and I'll get there."
With my girlfriends, the conversation is much more fluid. We tend to build on each other comments and have more of a back and forth. Overhearing my daughter with her girlfriends, they too definitely "share" the conversation and toss stuff in the mix.
In Blue Persuasion, currently in the editing phase, conversation plays a large role and I believe you can actually feel the different levels of friendship by how they communicate with one another.
With all the recent technology in communication, like IMing and texting, both parties can be typing at the same time and don't tend to wait to filter in their comments. Is this a bad habit?
More important to me than the art of conversation is the art of listening and understanding the nuances of the type of conversation you are engaged in. If my female friends are all excited about something, we will definitely share the verbal space. However, if someone needs support, we will listen until he or she asks for opinions and/or ideas.
Where do you fall on the conversation spectrum? Do you want to present your sharing like a monologue uninterrupted, one extreme or is conversing more like a shared chaos? Tell us what you think.
Here's to great conversations. I wish everyone safe and happy holidays.
Warm hugs,
Blakely
Please feel free to friend me on Facebook.
Find me Twitter & Pinterest.
Amazon